Newcastle United: Alan Pardew still "absolutely livid"
Last updated on .From the section Newcastle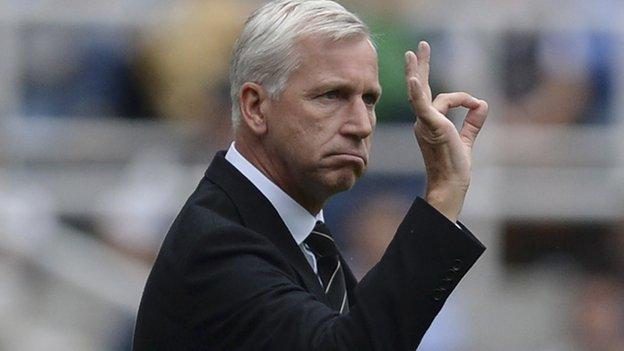 Newcastle United manager Alan Pardew has admitted he is still seething over his team's performance in the defeat against Hull on Saturday.
He told BBC Newcastle the result makes Wednesday's Capital One Cup tie against Leeds United even more important.
"I'm absolutely livid over Saturday, I can't tell you," he said.
"You don't get many opportunities to get into the top four of the Premier League, and to all intents and purposes we let ourselves down."
Even so, Pardew said he will be making changes for what, remarkably, is his first home domestic cup tie since taking over at the club over three years ago.
"The first team didn't do themselves any justice in my opinion on Saturday, therefore I am going to give three or four, maybe five, the chance to say: "Aye aye what about me?'
"I have also to protect the squad, and give hope to the squad. When do we find out if Sammy Ameobi, who is going to play, is good enough? Am I going to find out if [Paul] Dummit is good enough?
"Both are out of the academy, both have had terrific pre-seasons, both in some ways knocking on the door of the first team.
"So yes, it will be a mixed team, but I'd like to think it's going to win otherwise I wouldn't put it out. I'll make sure on Wednesday the team doesn't let itself down and gives itself a proper chance of winning the game."
Pardew said he was "desperate" to beat Leeds "on a number of levels".
He added: "They have a good Championship team, and it's not disrespectful to say if they went up to the Premier League they'd have to sign a few. We have players that have a higher profile and they need to prove it.
"Their fans are going to come up in droves and make a lot of noise, which does point to it being a lively night. To win would not make up for Saturday, but it would put some healing process in place."