Aaron Ramsey: Arsene Wenger praises Arsenal midfielder's 'spirit'
Last updated on .From the section Football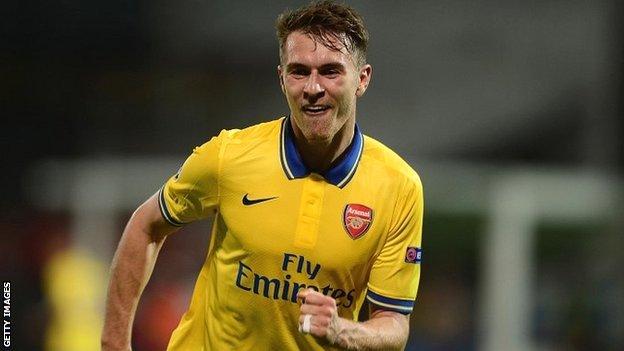 Aaron Ramsey's excellent start to the season is the product of his "obsession" with improvement, according to Arsenal boss Arsene Wenger.
"He has a great spirit and he has an obsession - he wants always to be better," said Wenger.
The Wales international has scored six goals in seven club games this season.
Ramsey was sidelined for nine months after fracturing his right tibia and fibula in a challenge with defender Ryan Shawcross in February 2010, and Wenger insists he was always confident Ramsey would still deliver on his potential, despite the effects of the injury lasting longer than the initial lay-off.
"There is a basic rule in the game that if you have a big injury before the age of 20 you come back and redevelop completely normally," Wenger said.
"I was not too worried but you never know how deep the impact is psychologically. He had a little resistance to go into the fights for a long, long time - but now he is over it."
Wenger believes Ramsey's focus on his game began to pay off with an upturn in form in the second half of last season.
"He had a difficult period in the middle of last season when people became impatient with him and he lost confidence," Wenger added.
"Sometimes you give the players a little rest, they can rebuild that confidence in their game and come back stronger and that is what happened to him.
"I always thought he would score goals if he improved his technical quality because you always saw him in good positions in the box."
Meanwhile, Arsenal are one of the 92 English clubs whose players have been to support a campaign against homophobia in the game.
The club's players are free to make up their own minds about whether to wear the laces, but Wenger believes the cause should be promoted as part of a wider initiative against discrimination in general.
"It is not needed to have every single week a different fight," said Wenger. "It is a kind of racism and it should all be included in the fight against racism."