Gareth Bale sale has transformed Spurs, says Malky Mackay
Last updated on .From the section Football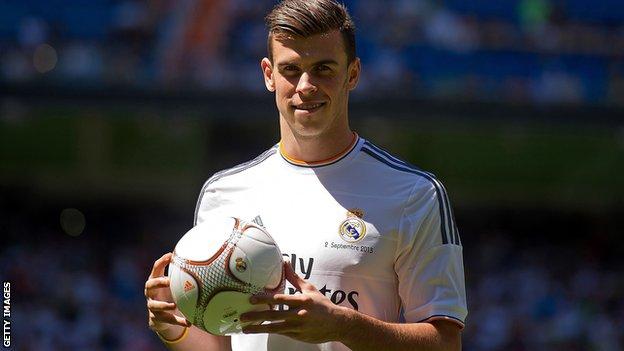 Cardiff City manager Malky Mackay believes the world record sale of Gareth Bale has allowed Tottenham Hotspur to transform themselves in to a Champions League side.
The player's ex-club have signed seven players at a total cost of around £105m
"Because of the extra amount of money the Bale deal actually made for the club, their squad looks like a Champions League squad," said Mackay.
Cardiff welcome Spurs to the City Stadium on Sunday looking for another major Premier League scalp after beating Manchester City.
But they could face a Spurs side containing the likes of Paulinho, Nacer Chadli, Roberto Soldado, Etienne Capoue, Vlad Chiriches, Erik Lamela and Christian Eriksen who manager Andre Villas-Boas has brought in.
And Tottenham sit third in the Premier League, nine places above the Bluebirds.
"Spurs went out and brought all those players in and then eventually did the [Bale] deal," said Mackay.
"It looks as if it has been very good business.
"The players that they brought in - everyone in football knew in football they were top talents that were on the market and they were going to cost a lot of money
"It was a top-six Premier League squad but they have gone and strengthened in depth and some of the players they have got I really covet.
"Spurs' agenda this year I'm pretty sure is to be a Champions League team.
"They might have a big fixture schedule, but they have got a big squad as well, a squad full of quality."
Mackay says that playing against a Spurs side without Bale would have been a blessing if they had not then spent £100m.
"We are going to be preparing against a team who, number one, who are up for it and, number two, packed full of quality," added Mackay.
"They have bought very well. To have such a match winner in Gareth Bale and the amount of individual goals he scored certainly made Spurs a different team at times.
"That is a huge hole to fill, but they have filled it very, very well.
"Because of the extraordinary size of that fee it's allowed Spurs to go out and bring in seven or eight high quality footballers.
"And it's changed the look of Tottenham Hotspur in terms of where they are as a squad in terms of their strength in depth and the challenge they may provide in the Premier League this year."