St Mirren: Under pressure Danny Lennon points to track record
By David Currie
Reporting Scotland presenter
Last updated on .From the section Football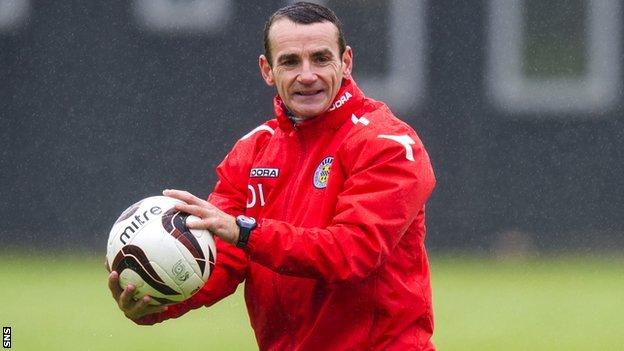 Manager Danny Lennon says he's "relaxed" ahead of St Mirren's Scottish Premiership match against Hibernian, despite speculation about his future.
The Buddies have yet to win a match this season and have one point from their opening five league games.
But Lennon believes he can improve the club's fortunes, if given time.
"If the decision is made that they no longer want Danny Lennon as the manager then I would say what is it they expect from a new manager?" he said.
"Do they expect him to go out there and get a higher league position? I've already given the club that with their highest SPL finish.
"Do they expect the club to survive in the league? I've already done that every season that I've been here.
"Do they want a manager to go and give them cup success? I've given them four quarter-finals in three season plus a national cup [last season's Scottish League Cup].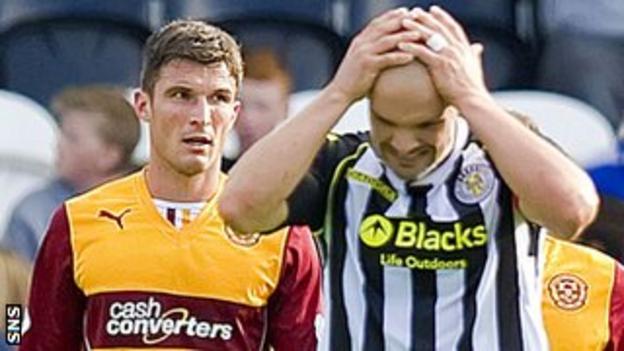 "You're splitting hairs between most clubs in this league so as long as we continue to keep believing in ourselves, work as hard as I know that we can, our luck will change."
Defender Paul Dummett, striker Esmael Goncalves and goalkeeper Craig Samson are among the players Lennon no longer has available from last season and Danny Grainger, Gary Harkins and David Cornell have been integrated into the team.
"I always believe that it takes maybe five or six games for players to settle in," added the 44-year-old.
"Gary Harkins and Danny Grainger are now hitting that mark so we're looking for bigger things there from everyone.
"Not one of our players has hit top form this season so far but it's only going to be the credentials of working hard, the character of the players and continuing to work together that's going to turn this around for us.
"I'm certainly positive that it'll turn very quickly for us.
"I put myself under enough pressure. There's always the speculation about any manager when results aren't going well and I totally understand that.
"This is a club that I love. It's a club that I love coming in to on a daily basis. I love working with the people in and around that are associated with our football club."