Leeds United: Brian McDermott recreates 'scary' rituals
Last updated on .From the section Football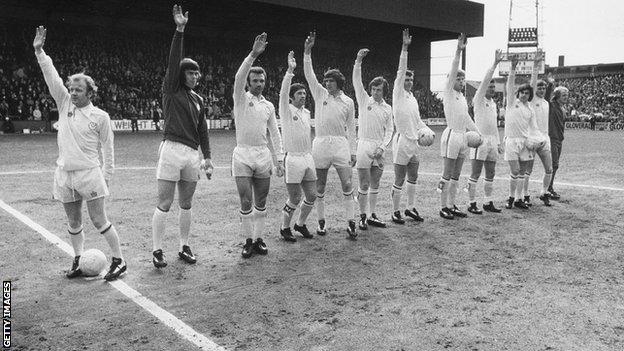 Leeds United manager Brian McDermott is looking to the past in his determination to make Elland Road an intimidating venue for opposing teams.
McDermott's players are recreating some of the pre-match rituals made famous by Don Revie's side in the early 1970s.
That includes walking out and waving to the crowd in the manner pictured above.
McDermott said: "I distinctly remember that team walking out like a group of soldiers, it was bordering on being a little scary and I liked it."
"We are fortunate to have people from that era around the club, like Norman Hunter and Eddie Gray and Peter Lorimer, and now Dominic [Matteo] from another successful era when they did really well in the Champions League.
"I have great respect for what they achieved and I have no interest in diluting that."
McDermott said the club's fans were responding to the idea.
"We sat down, all of us, and had a discussion about the past and the history of our club.
"I remember very, very distinctly years ago, when Leeds United used to walk out on to that pitch and wave to the crowd. I remember the socks, and the tracksuits with the name on the back, and as a group you have to respect that great tradition and history.
"And we just felt as a group it would be a nice touch, because some of the players are too young to remember that.
"So we are trying to get the music going before the game in the warm-up, just little things that can make a difference, just trying to add them up to get to where we want to get to.
"There would have been a lot of supporters in the ground who picked up on it, because they know this club.
"We have a lot of supporters aged 45, 50, 55, my age, where they know what's gone on here in the past. We're not doing it for a gimmick, it just sends a tingle down the spine."