Hyuri's bright start heals wounds of Vitinho's Botafogo exit
Last updated on .From the section Football166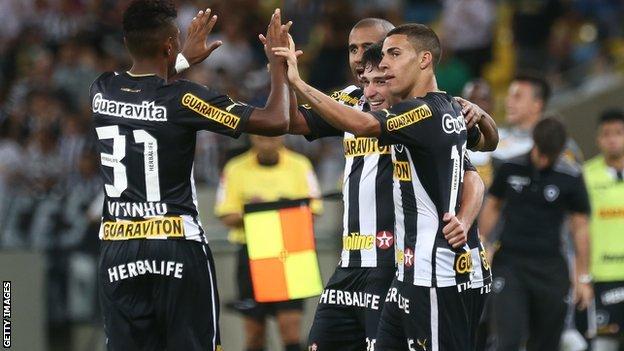 I had to feel sorry for a Botafogo fan sitting near the press box in a match in the Maracana last week. He had splashed out on an official shirt - which would not have been cheap - and emblazoned on the back was '31 Vitinho'.
The object of his admiration was an excellent addition to the Botafogo first team - while he was there. Spearheaded by Clarence Seedorf, they continue to enjoy a splendid campaign. With the Brazilian Championship just past the halfway stage, the Rio club are second, and face an important game this Wednesday away to leaders Cruzeiro.
Seedorf has proved a magnificent signing. When the former Netherlands international arrived little more than a year ago, even coach Oswaldo de Oliveira was unsure where he would fit in the wide open spaces of Brazilian midfields.
In the event, Seedorf has stamped his talent and personality on the club to such an extent that the game takes place wherever he might be. He can drift all across the midfield line in the team's loose 4-2-3-1 system. He can drop deep to organise. And he even spends some time in the centre-forward slot. But wherever he is, Seedorf is at the centre of the action.
Of course, he needs to be housed in a suitable line-up. And with Botafogo, as with all clubs who play a 4-2-3-1 formation, things work much better with a speed merchant in the line of three. If not, there is a danger that all the play with take place in front of the opposing defence - with no one to crash through it.
This was where Vitinho came in. Raw but strong and skilful, the 19-year-old from Rio supplied the speed to latch on to Seedorf's defence-splitting passes. In his debut campaign, he was making a big impression. But before the championship reached halfway - and shortly after our friend in the stands invested in a shirt with his name on it - he was sold.
CSKA Moscow came in with a bid. Their offer of 10 million Euros covered his buy-out clause. The Russian club offered a sizeable salary increase. And to Botafogo's consternation (they only owned 60% of him, and accumulated debts make it unlikely they will see any of their share of the fee), Vitinho was off.
Some of their supporters were outraged, and scrawled slogans of protest on the club walls. But just over two weeks later, no is protesting any more. It seems as if Botafogo have been able to clone their new star. Exit Vitinho, enter Hyuri.
A few days ago, Hyuri was not even a household name in his own home. After four games and three wonderful goals, the 21-year-old is Botafogo's new idol. In post-match interviews, he comes across as thoughtful and intelligent, attributes which will be a big help as he comes to terms with his new status. The club will have to mass produce shirts with his name and number 17 on the back, because there will be a demand for them.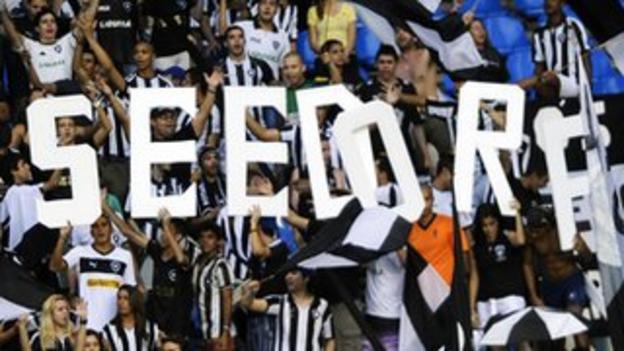 This story is a testament to Brazilian football's unrivalled capacity to renew itself by continually throwing up new players. Part of this is due to the constant selling. After all, Vitinho grabbed his opportunity after Botafogo sold attacking midfielders Andrezinho and Fellype Gabriel. The sale of Vitinho opens up space for Hyuri.
The positive side of this, for a young player, is that there is a good chance of first-team opportunities. The negative is that he can be treated like a commodity. Both Vitinho and Hyuri, for example, were groomed by a Rio club started a few years ago by a supermarket.
Paulinho, now of Tottenham, began with the Sao Paulo version of the same project - and found himself quickly in Europe, with spells in Lithuania and Poland proving so unhappy that he considered giving up the game.
The young South American can find himself under pressure from agents and investors, often his club and sometimes even close family members, to jump at the first money-making offer that comes along, regardless of the long-term consequences for his career.
The promising young British player faces a different set of circumstances. This Thursday, for example, Tottenham begin their Europa League group campaign with a home game against Tromso of Norway. At the end of August, I was at White Hart Lane to see them guarantee their place with an 8-0 aggregate win over Dinamo Tbilisi. The second leg featured an eye-catching performance from slightly-built midfielder Tom Carroll, who passed the ball quickly and intelligently with his splendid left foot. His clever lay back set up a goal for Lewis Holtby.
If he came from Rio rather than Watford, Carroll would probably be a first-team regular with a major local club, and wonderkid status would have been bestowed upon him - with all of the opportunities and problems this can bring.
Instead, now that Tottenham's Europa League bid starts in earnest, he is elsewhere. Expensive signings Erik Lamela and Christian Eriksen have been brought in and, lower down the pecking order, Carroll has been loaned out for the third time in his brief career, this time to Queen's Park Rangers. Such moves can help give a player experience. But they can also stall a career, as his new team have no stake in his long-term development.
Things may have happened too fast for Vitinho, or it could be that the chances have come at the right time. Tom Carroll may have been held back, or is perhaps he is being brought along at exactly the correct speed. Only time will tell. No one size approach fits all. But their starting point has a major effect on their journey.
Send questions on South American football to vickerycolumn@hotmail.com, and I'll pick out a couple for next week.
From last week's postbag;
What is your opinion on the young Bolivian Jaime Arrascaita? I only saw his strike on goal (against Ecuador last Tuesday), and within that passage of play you could see he may have something about him. He is very raw, but do you see him to be a future Bolivian star in Europe in a few years, by way of a spell in a higher-profile Latin American league, such as Mexico or Argentina?
Dominic Brady
It was quite an entry he made against Ecuador, coming on at half-time and scoring from long range within a couple of minutes, and then hitting the post just afterwards. He does look to have something, a burst of acceleration and some natural talent. Bolivia captain Ronald Raldes spoke wisely after the game, pointing out that his compatriots "need to support him, to help him grow in football and in physical terms, because he's taken a giant stride and now he needs to sustain it". He is very slightly built, and I can't see him in Europe for the next few years. Then again, staying in Bolivia for too long won't do him a great deal of good. I think you might have nailed the solution with Mexico. No doubt about it, though - one to watch, and Bolivia badly need someone like him to come through.
How do you think Argentine centre forward Facundo Ferreyra will do at Shakhtar Donetsk?
Jackson Stokes
I don't think he's anything special at all. He's one of those Argentine number nines who do little else but push the ball over the line. Almost everything will depend, then, on the service he gets, because he's unlikely to create too much for himself. If all those Brazilian wingers turn it on, then he should have enough opportunities to justify his signing.