Stephen Ireland says he will consider return to Republic duty
Last updated on .From the section Football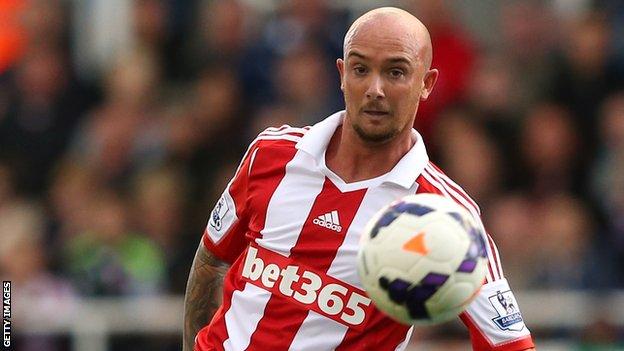 Stephen Ireland is willing to consider ending his Republic of Ireland international exile under the national team's next manager.
Ireland, 27, is attempting to resurrect his career on loan at Stoke after falling out of favour at Aston Villa.
The Cork man has not played for his country since he lied about the death of both of his grandmothers after pulling out an Irish squad in 2007.
"I would like to have a chat (with the new manager)," said Ireland.
"If nothing comes out of it, nothing comes out of it, but I think it would be nice just to have a chat.
"First and foremost it is just Stoke City on my mind. I need to get 10, 15, 20 games under my belt first and see how I go with that."
Ireland withdrew his services from his country's national team during Steve Staunton's reign and then rebuffed Giovanni Trapattoni's attempts to coax him back into the Republic fold.
The midfielder pulled out of the Republic squad prior to a Euro 2008 qualifier against the Czech Republic in September 2007 and he has not played for his country since then.
He withdrew from the squad for the Prague game, initially citing the passing of his maternal grandmother, and then the death of his paternal one, before it emerged that his girlfriend had suffered a miscarriage.
Trapattoni left his post in midweek after his side's World Cup 2014 qualification hopes were all but ended by defeat in Austria, and Ireland said he would be pleased to take a call from his successor.
Ireland joined Stoke on a season-long loan on transfer deadline day, a move that reunited him with his former Manchester City boss Mark Hughes.
He made his debut off the bench as the Potters held City to a goalless draw on Saturday.
It was his first competitive appearance since January and his first in the Premier League since last December.
On that basis, an international recall might be some way off but he hopes his past issues with the national set-up are now firmly in the past.
Ireland added: "I would like to think so.
"It was my decision to leave and it's probably going to be my decision to go back if the manager asks, whoever they appoint.
"But first and foremost it's about my club and we'll have a conversation further down the line if they ever want me to go back.
"It all depends who the new manager is. It's a long time away yet, I think."
Martin O'Neill is the odds-on favourite to succeed Trapattoni in the Republic job.