Paolo Di Canio regrets inviting referee to send him off
Last updated on .From the section Football389
Sunderland manager Paolo Di Canio said he regrets inviting the referee to send him off during their controversial 3-1 home defeat by Arsenal.
The Italian was sent to the stand after arguing with referee Martin Atkinson over alleged Arsenal time-wasting.
"He came to me and said 'if you keep going with your manner I will send you up to the stand'," Di Canio explained.
"I said if you want to complete a perfect job, you can send me off. He took it seriously and sent me off."
Di Canio, whose side sit bottom of the Premier League with one point from four games, added: "Next time I will never invite the referee to send me off because he took it seriously."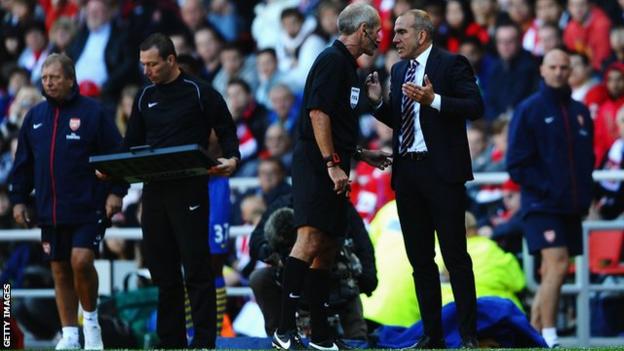 Before the second-half dismissal, Atkinson had sparked controversy by disallowing Jozy Altidore's goal for Sunderland.
Battling to get his side back on level terms for a second time, Altidore brushed off Sagna's attempts to hold him back.
His subsequent shot crept over the line before being hacked clear.
But Sunderland joy soon turned to anger when, instead of playing the advantage, Atkinson brought the game back for a Sunderland free-kick which curled harmlessly wide of Wojciech Szczesny's left-hand post.
Earlier, Craig Gardner's penalty had cancelled out Olivier Giroud's early strike with Aaron Ramsey restoring the visitors' lead before Altidore's goal that never was.
Ramsey then rubbed salt into the home side's wounds by scoring his fifth goal of the season.
It sealed a victory which takes the Gunners to the top of the fledgling Premier League table.
Di Canio, who has made plenty of headlines since becoming Sunderland boss towards the end of last season, has clamped down on perceived indiscipline at the Stadium of Light.
When asked about the disallowed goal, Di Canio said: "It was a mistake - the referee has the power to wait to see how the action finishes, and then he can come back to his decision.
"They have to wait. You could see Altidore is much more powerful than Sagna, he was shielding the ball well. It was clear he was near to winning the challenge.
"That was a key moment because we can't imagine that we would have many more opportunities to score, so that decided the outcome of the game.
"That can happen. He is a man. It's important that he accepts this - I make mistakes every single moment when I make decisions with my players; my players make mistakes in front of goal."
His opposite number Arsene Wenger said: "Look, it's one of these things that are controversial because the referee had blown the whistle before the ball had gone in.
"If it's no goal, people moan because he didn't give the foul, and he could have given a foul on Sagna as well because both were holding each other off," explained the Arsenal boss.
"But we were a bit lucky, yes, because this kind of situation can go in your favour and can go in the favour of Sunderland."