Price of Football: How West Ham are attracting younger fans
Last updated on .From the section Football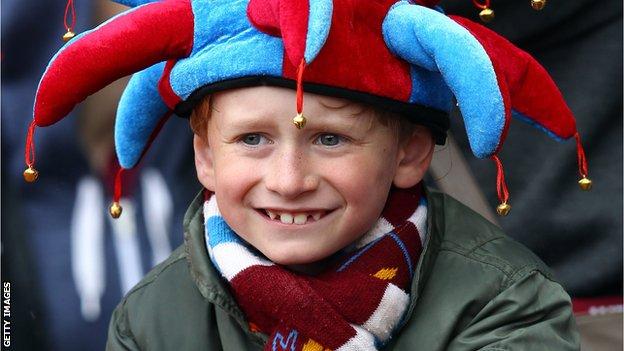 West Ham United will offer a "kids for a quid" deal at as many as six home games this season as they continue efforts to attract a new generation of fans.
The Hammers, who have sold out their past 18 home league matches, will have almost 20,000 more seats available when they move from Upton Park to the 54,000-seater Olympic Stadium in 2016.
BBC Sport Price of Football found a host of other top-flight clubs offer incentives to attract youngsters, with West Brom and Fulham also running selected "kids for a quid" matches.
Record junior season-ticket sales for the Premier League were reported last season, with adult sales also up.
Other deals offered by clubs include Aston Villa giving 1,000 free tickets to primary-school children every home match, Everton (£95) and Swansea (£99) selling reduced-rate season tickets and Southampton giving under-11s a free ticket when accompanied by two paying adults.
Last year saw West Ham, who also offer under-11s season tickets for £115, record their highest ever average attendance at the Boleyn Ground, as they strengthen ties with local schools and clubs and attempt to improve the match-day experience.
"It is not a simple case of introducing an attractive pricing strategy," said vice-chairman Karren Brady. "That is key, but it must be supported by the product and work in tandem with the need to retain and reward seasonal supporters.
"Since we became involved in football, David Sullivan, David Gold and I have been committed to offering affordable football to all.
"At Birmingham City, we pioneered the popular 'kids for a quid' promotion. We feel passionately that people from all walks of life should have access to elite sport to enjoy, to inspire them and to encourage sports participation.
"While the visits of some of the world's most recognised teams will continue to merit a premium price, there are always opportunities to make Premier League football more accessible
"Competitive pricing is important because, as consumer tastes develop and the availability of alternative experiences increases, Premier League football must compete with other family days out. This means clubs must differentiate themselves to remain competitive. This is particularly true in London."
West Ham, who will become tenants of the Olympic Stadium in 2016, have had a 40% increase in the number of first-time fans buying match tickets from the 2011-12 season and a 23% rise in match-attending under-18s last season.
"The importance of the overall experience is all the more significant as the club embarks on what is arguably the most exciting step forward in its history," added Brady.
"The move represents a fantastic opportunity for West Ham, allowing us to expand our community operations and opening up Premier League football to huge numbers of new people.
"Our move will give nearly 20,000 more supporters the chance to experience our fantastic product on a regular basis, and the foundations of that work have already started with the effort we have put in across our ticketing schemes."
Other offers in the top flight include Sunderland selling an adult and junior season ticket for £425, Liverpool and Manchester City offering match-day tickets for junior members at £5 or £10 respectively, and Norwich selling reduced-rate season tickets, including one at effectively £3.67 a game for under-12s.
Stoke City give free tickets to members of their City 7s scheme once a season, Tottenham offer fans attending for the first time a discount, Chelsea put on a match-day experience for younger fans and Hull sell an under-10 season ticket for £53.
"Making football more attractive and more affordable for families is something clubs have worked hard at over the last few years," said Cathy Long, the Premier League's head of supporter services.
"Football is increasingly a family affair - 29% of fans attend with children, and the clubs are doing a better job in making football more accessible to them.
"In 2009, 76% of parents thought clubs catered well for their need, but that had increased to 87% last season."
The BBC Price of Football study looked at 166 clubs in 10 divisions across British football, including the Conference Premier and Women's Super League.