Wales boss Chris Coleman hits back at Raymond Verheijen
Last updated on .From the section Football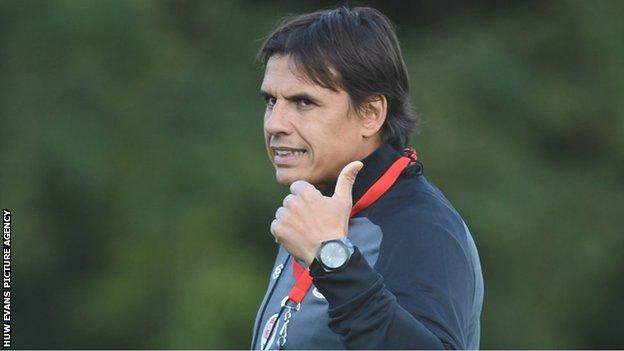 Wales manager Chris Coleman has hit back at criticism of his coaching team by Raymond Verheijen.
"I'm not surprised ... he rears his head every now and again when something goes against us," said Coleman.
"He doesn't care about Wales, he cares about himself."
Verheijen resigned from Wales in February 2012 after Coleman had been appointed manager following the death of Gary Speed.
He has been a consistent and vocal critic of the Football Association of Wales, and believes Wales have not fulfilled the potential the side showed under Gary Speed.
Wales are lying fifth out of six teams with three matches left to play in World Cup qualifying Group A, having won just twice in seven games.
Asked on the BBC Radio Wales phone-in who he felt was responsible for Wales' poor form, Verheijen said: "The coaching staff first of all, of course, because they are responsible for turning very talented players into a very strong team which clearly hasn't happened.
"And secondly of course the people who are responsible for appointing this coaching staff, [and] that is of course the FAW."
Coleman, who is engaged in contract talks with the FAW, says he does not pay much heed to Verheijen's comments.
"I talk to a lot of people in Holland and go to a lot of games and the thing is his opinion of himself is not the same as everybody else's opinion of him.
"So I don't get carried away with what he says about my staff (and) me and the FA of Wales.
"The thing is he can't affect me, us, Wales."