Truro City 'won't repeat financial mistakes', says chairman
Last updated on .From the section Football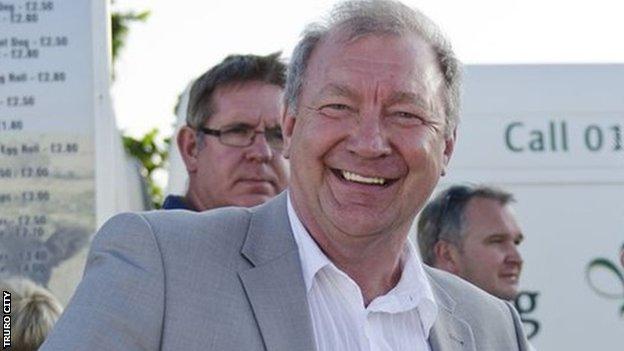 Truro City chairman Peter Masters says the club will learn the lessons of the past after officially coming out of administration this week.
"We've got to keep things under control - it's very easy to get carried away," Masters told BBC Radio Cornwall.
"I think we're in a very good position, budget-wise and the manager is keeping some back for a rainy day."
The White Lions spent heavily in the seasons before their financial troubles, bringing in high-profile players like former Fulham and Leicester striker Barry Hayles, but manager Steve Massey's recruitment policy is now rather different.
"My brief to Steve was to try to get some local Cornish talent. We wanted to go round the various clubs and see what we could find," said Masters.
"Some of the managers were concerned that we were, for want of a better word, pinching their best players, but we wanted to give everyone the opportunity to join us.
"There is some good talent around and they've fared well."
Masters, the owner of several businesses in Cornwall, said his experiences since taking over the club last December had been challenging, but very rewarding.
"It's been a baptism of fire," he said.
"I've had to deal with all types of people, including the administrators. They were doing a job but to them it was all about getting money out of Philip [Perryman] and myself and that was it.
"It took probably four or five months to know what's going on, but I've been to every match this season and I've enjoyed every one."