Martin Allen: Gillingham boss remaining upbeat despite start
Last updated on .From the section Football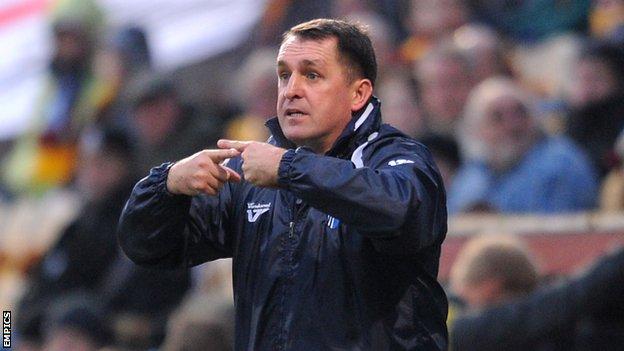 Gillingham manager Martin Allen says he will continue to back his players despite his side's start to the season.
The Gills have not recorded a win in their opening five League One fixtures.
He told BBC Radio Kent: "I suppose when you don't win it can be demoralising, upsetting and difficult.
"The last thing the players want to hear about at the moment is being criticised. They don't want to be run into the ground and punished like the old days."
He added: "We are three games unbeaten in the league and have picked up three points. It could very easily have been nine."
Gillingham won the League Two title last season and are back in the third tier for the first time since 2009-10.
They started the season with defeats by Colchester and Wolves, without scoring, but have since had draws against Brentford, Swindon and Bristol City.
Allen says he has to take extra care of his squad when they endure a difficult run of results.
"When you are winning you are physically fitter and faster, stronger and happier," he said. "When you are losing it is more testing.
"You have to take that into account with how you deal with them and look after them as people.
"They are a hard-working group of men. There are no big-timers, no wasters and no-one late for training. They all care and work hard together.
"When it doesn't go as you want it to go they do get disappointed, they do get hurt and frustrated. We cannot allow all that to creep in, especially from me.
"Every time I always believe we are going to go out and win and it is the same every game. We prepare and play to win.
"I was brought up to do your best whatever."
Allen says he will not alter their training routine despite the fact they are yet to register a victory in any competition this season.
"The most important thing is we worked lightly on Thursday morning, made sure there are no injuries and were ticking over," he said.
"We'll do the first-team preparation on a Friday morning, which is the same kind of week as we did all last year. We'll be short and sharp and get the messages across."