Alan Hansen to leave Match of the Day role after 22 years
Last updated on .From the section Football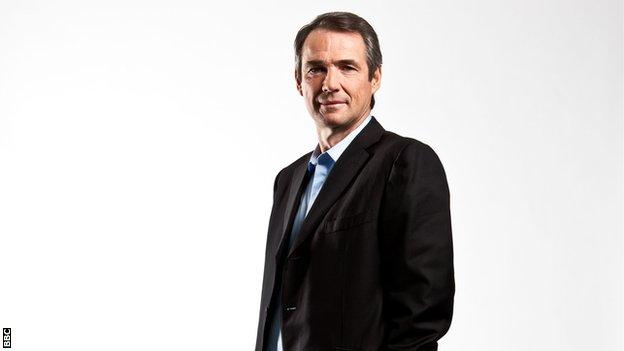 Alan Hansen will retire as a Match of the Day pundit after 22 years, following next summer's World Cup.
Hansen, 58, has been a leading analyst on Britain's most-watched football show since 1992 after a stellar playing career with Liverpool.
"I've been in football for 41 years and I'm going out right at the top, just as I did at Liverpool," he said.
"I have worked for a great organisation with wonderful people on the most fantastic programme."
After arriving from Partick Thistle, Hansen went on to captain Liverpool during one of the most dominant periods in British football history.
The cultured centre-back won eight First Division titles, two FA Cups, four consecutive League Cups and three European Cups in a 14-year spell at Anfield that ended in 1991.
The Scotland international swapped the dressing room for the television studio a year later, earning a reputation as one of the most insightful and influential pundits in the country while working alongside figures such as Des Lynam, Gary Lineker, Mark Lawrenson, Alan Shearer and Sir Trevor Brooking.
"I've worked with arguably two of the best in Gary [Lineker] and Desmond Lynam. Des was the best, and is the best, because he was just an unbelievable presenter," he told the Daily Telegraph.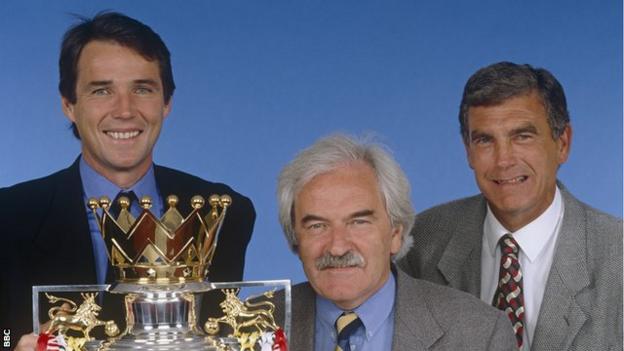 "In the early days of Match of the Day, I don't think I would have been working for 22 years had I gone on with another presenter because he was that good.
"I could say virtually anything to him and he would come back with a line.
"And his knowledge of football was far greater than anything I thought it would be. He really did know the game.
"When it comes to Gary, you will be three or four questions in, but he already knows question five, six or seven, because he is that good."
Hansen also held a key position in BBC Sport's coverage of major football tournaments, including the World Cup and European Championships.
His current two-year contract expires next July and he has no intention of signing a new one.
He explained: "The guys at the BBC know me and I said: 'Look, this is categorical. I'm leaving and nothing will make me change my mind.'
"I am contracted to do the World Cup and I will do that as it will be a good way to go out, but I have had a great run.
"The plan was always that I would retire at 55. I kept going, but I finally decided to retire during Euro 2012."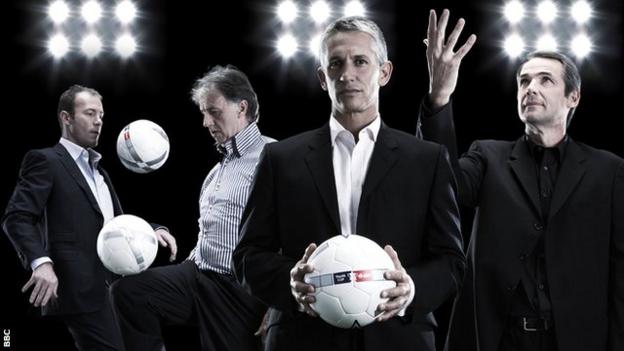 Hansen's most memorable moment with the Premier League highlights programme - which currently attracts 5.5m viewers - came in 1995 when he famously responded to Manchester United's 3-1 defeat at Aston Villa by insisting: "You can't win anything with kids."
That side, full of youth products like Paul Scholes, Gary Neville, Phil Neville, Nicky Butt and David Beckham, went on to claim the FA Cup and Premier League double that season.
"That line pretty much made me, simply because I got it so dramatically wrong!" Hansen admitted.
"But despite being so dramatically wrong, if United hadn't won the double that year, you could still say that line now."
"The United souvenir shop printed the quote on a T-shirt and they sent me a couple, which was great.
"I was in Scotland last week and somebody brought it up, so it's always there."
He revealed that he had rejected managerial offers to remain on the Match of the Day panel.
"I also turned down Manchester City in 1995 after Brian Horton was sacked, simply because I never wanted to be a manager," he said.
"When I left Liverpool in 1991, I was in the frame for the job at Anfield, but if I wasn't going to take the Liverpool job, I wasn't going to take any job. It was as simple as that."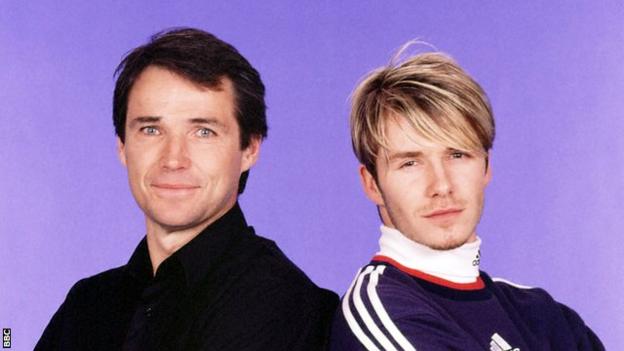 A BBC Sport spokeswoman said: "Alan has had a terrific career as an outstanding football pundit for BBC Sport over the last two decades.
"We discussed his future at the end of last season, where he spoke of his intention to step away from regular broadcasting when his contract expires after the World Cup.
"Alan will remain an important part of the Match of the Day team this season along with Gary Lineker, Alan Shearer and a range of new pundits."