Colchester United: Kem Izzet considers management future
Last updated on .From the section Football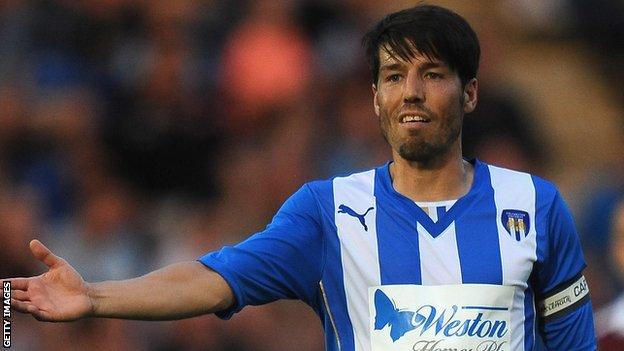 Released Colchester United midfielder Kem Izzet has said he will consider going into management once he retires.
The 32-year-old is looking for a new club after being released on Monday, ending his 12-year association with the U's, where he played 473 games.
"If I did anything I'd rather be a manager," he told BBC Essex.
"I'd rather be the person making the decisions and get sacked doing it my way, rather than getting sacked doing it someone else's way."
By becoming a free agent on Monday, before the transfer window closed, Izzet is able to sign for any other club.
Boss Joe Dunne has said he did not foresee the former Colchester captain playing a key part in his side this season.
"In pre-season I thought I did well. But once they got up and running I can't have any grievances," said Izzet, who suffered with a hip injury at the back end of last term.
"The argument I had was when pre-season was over why wasn't I given that chance in the first game of the season?
"I want to carry on playing for as long as possible.
"There's many others looking for clubs like I am. Hopefully you get a bit of luck and somebody takes a go on you. So if anybody's listening - I do need a club."