Gareth Bale: Real Madrid put on quite a show for record breaker

By Jonathan Overend
BBC Sport in Madrid
Last updated on .From the section European Football
They came in their thousands, not to watch a match - that had been the day before - or take the stadium tour - every day from 10am - but to show some love, very unique Real Madrid love, for the new boy in town.
The Welshman's arrival at the Bernabeu follows a none-too-shabby sequence of Zinedine Zidane, Luis Figo, Kaka and Cristiano Ronaldo, who all cost Real millions and ensured they remained the kings of transfer dealing.
And tradition here in Madrid dictates that, when you splash the cash, as Real so often do, it is important to do the whole "unveiling" thing. Vegas-style.
I've been to a few footballing announcements over the years - the most bizarre of which involved chasing Kanu down a hotel corridor in St Albans - but nothing like this. The fans flocked to cheer, listen, dance, watch some skills, wave like crazy and check for any badge-kissing.
It was nothing like the crowd that gathered for Ronaldo's arrival in 2009, when 5,000 fans were locked out of the stadium, or for Kaka before him, but, as 15,000 Real fans lapped up the free tickets being dished out by ladies in yellow on the pavements outside, the lower ring of seating inside the stadium quickly filled up.
The fans came mainly as families - with many kids in groups together - and the majority were wearing Real Madrid white.
The unofficial Gareth Bale scarves - a low-quality silk-like item with "BALE" printed across it came a poor second to the superior "GALACTICO GARETH" knitted version - were finally being shipped from the stalls, although they had been on sale for weeks apparently.
Only a few fans had shirts with Bale's name on the back. It may take a few marauding runs and a handful of wonder strikes from the 24-year-old before he convinces those loyal to Ronaldo, Iker Casillas and Sergio Ramos that it is worth returning to the printing machine in the club shop.
Inside the Bernabeu, fans were chanting, Mexican-waving and, on demand for the cameras, imitating Bale's heart-shaped celebration.
Real Madrid's television channel was there too, live with their glamorous presenters and an impressive video of grainy footage from Bale's schooldays. I doubt I'm taking a massive gamble by suggesting Whitchurch High School made its first appearance on the Bernabeu's big screens on Monday.
A stage had been built in the president's box, facing away from the pitch, with VIPs and media sat in the comfy chairs. Stage right, a pretty standard picture of Bale shooting left-footed for Wales. Stage left, a suitably left-field choice; a shot of a smiley nine-year old with Gary Lineker-like ears wearing a Real Madrid shirt. Suitably surreal.
Then, just after one o'clock local time, the show began.
First the Real dignitaries, followed by Bale's family, then the man himself. Looking super-sharp and, dare I say it, Beckham-esque, Bale took his seat in the front row with handheld translation machine and flimsy headphones of which Dr Dre would not approve.
After being introduced by gushing president Florentino Perez - "this is your home, we are your family" - the 24-year-old waved confidently and pulled off a PR masterstroke by saying a few words in Spanish.
With the crowd chanting "Gareth Baleee, Gareth Baleee", you sensed a global brand bursting from the showbiz schmaltz.
A quick costume change and out he popped from the tunnel in pristine Real white. He nervously attempted a few keepy-uppies, managing just six rather disappointingly, but he never stopped smiling and walked around the touchline, as instructed, booting souvenir balls into the crowd.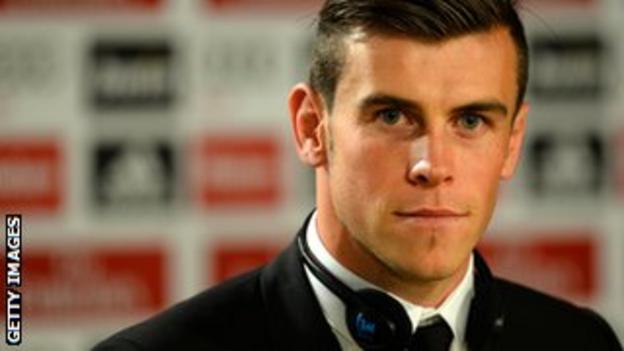 Fans leaned over the barriers trying to get a shot with their phones and cameras, many screaming. For a bloke who hasn't really won anything yet, it was remarkable adulation.
As he roamed the famous stadium on a sweltering Spanish afternoon, his proud family used the home dug out as shade for little Alba Violet, Bale's one-year-old daughter.
Gareth Sr and mum Debbie stared somewhat disbelievingly at their son - a reserve left-back only a couple of years ago - as he stood on the touchline, but now at the centre of the footballing universe.
Back into the dressing room, back into the suit and into the news conference room, looking like a young chief executive announcing a billion-dollar takeover. He was measured and mature and said all the right things - about Real, Spurs and Ronaldo.
The only thing missing? A dry witticism, delivered with a likeable smirk, in the way I've seen Andy Murray operate in the past. It's a winning tactic when you're new in town.
Real Madrid's "unveiling" tradition had sounded tacky, but, having experienced it, it is an inspired concept.
Bale became a Real hero without playing a minute of a match. The whole thing was over the top and egotistical. And absolutely brilliant.