David Martin elected as IFA deputy president
Last updated on .From the section Football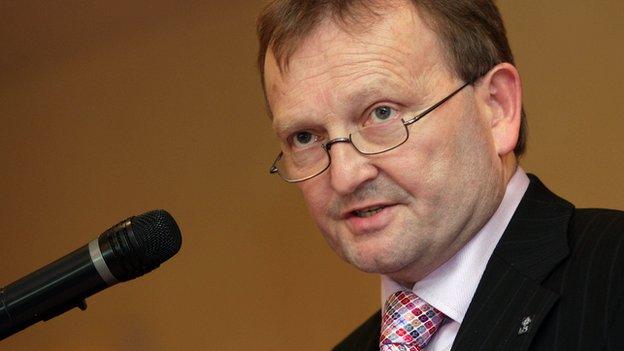 Former IFA treasurer David Martin has been voted in as one of the body's new deputy presidents and could succeed Jim Shaw as president in two years' time.
Martin returned to the Association on the back of a unanimous vote at a meeting of the IFA Council on Monday.
The move comes three years after he resigned in the wake of the sacking of former chief executive Howard Wells.
DCAL and a section of Northern Ireland supporters had expressed concern over his appointment in recent weeks.
Wells' dismissal cost the association £500,000 in an unfair dismissal case and both Martin and former president Raymond Kennedy were subsequently removed from their positions under pressure from the then Sports Minister Nelson McCausland, who deemed the organisation not fit for purpose.
Martin failed in a previous attempt to become a deputy president in October 2011.
A suitability assessment which was in place as a criteria for occupying senior office at that time has since been removed.
A section of Northern Ireland supporters staged a protest prior to and during last month's World Cup qualifier with Russia at Windsor Park in an attempt to have his election blocked.
The Department of Culture, Arts and Leisure have indicated that future public funding provided to the IFA may be put in jeopardy by the appointment.
Linfield Management Committee member and NI Football League chairman Jack Grundie was elected as the second IFA deputy president.