Birmingham City: Lee Clark backs Lee Novak and Matt Green
Last updated on .From the section Football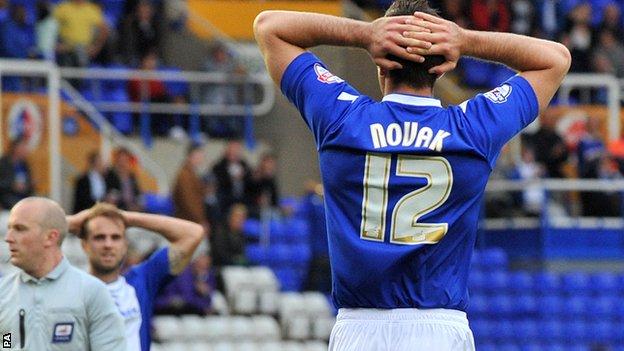 Birmingham boss Lee Clark has backed strikers Lee Novak and Matt Green to find a scoring touch for the Blues.
"The key is that you've got to be there for the next [chance]," Clark told BBC WM. "I haven't got a problem with Lee or Matt [Green] missing a chance.
"What I've got a problem with is not being there to miss a chance, they will start scoring goals."
Novak, who moved to St Andrews this summer on a free transfer from Clark's former side Huddersfield where he scored 42 goals in 172 games, had failed to score in his first five games for the club.
But he was allowed to score unopposed in Tuesday's Capital One Cup tie at Huish Park after Yeovil's Byron Webster had controversially chipped into an empty net after Blues goalkeeper Colin Doyle had kicked the ball out following an injury.
However, Clark believes that Novak just needs a bit of luck to fall his way, before he goes on a goalscoring run.
"Every single player at this football club at this moment in time loves him to bits because of his work ethic, half of these chances he is getting is down to that," former Huddersfield boss Clark said.
"He's just got to keep going, what will happen is that he'll get a ricochet off his knee, someone will clear it and it'll bounce off him, or someone will have a shot and it will deflect off him and he'll be off and running."