Wayne Rooney: Time for 'The Wanted One' to make his choice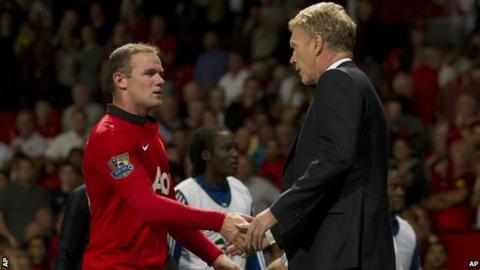 Wayne Rooney's heartstrings were being pulled in every direction by the love from all parts of Old Trafford - but it is his head that must now make the next crucial move of his career.
On a night that was meant to be about "The Chosen One", as the banner draped high from the Stretford End christened new Manchester United manager David Moyes, and "The Special One" Jose Mourinho on his return to place where he has enjoyed great moments, it was "The Wanted One" who set the agenda.
Rooney was the topic for discussion before, during and after an anti-climax of a game that gave Old Trafford its first Premier League goalless draw since May 2009 in Moyes's first competitive match here since succeeding Sir Alex Ferguson.
He may be discontented at United but Rooney had shown Moyes enough in training and during a cameo in the 4-1 win at Swansea City to warrant a place against Chelsea - and in front of the manager who wants to make him the centrepiece of a new era at Stamford Bridge.
Rooney did not disappoint United as he delivered an outstanding performance. And he certainly did not disappoint Mourinho, who praised his "fantastic" display and his professionalism in circumstances that may have overwhelmed others.
The United fans who want him to stay chanted his name. The Chelsea fans who want him to leave chanted his name. Moyes and Mourinho delivered so much praise that they graphically outlined exactly why they want him in their teams.
And now it is surely time for Rooney to state his intentions.
Mourinho gave him a 48-hour deadline to decide before moving on to Samuel Eto'o, suggesting Chelsea would not have been naive enough to make two offers in the region of £25m to United without receiving encouragement that they would get their man.
United's position has not moved one inch but neither have Rooney's lips and the clear inference from Mourinho was that he should now put up or shut and end the saga one way or the other in the interests of all involved.
It is hard to see Rooney responding to such a public ultimatum, especially in the light of United's point-blank refusal to sell, particularly to Chelsea.
And given the affection showered on him by United's fans, no doubt tinged by a desire to keep him well away from Chelsea, it now seems even more certain he will stay where he is. It hardly seemed a hardship for him on Monday's evidence.
Rooney's body language gave few clues as to what he may do, although he responded to the applause of United's fans - but this was a performance of a fully committed footballer who would grace either of these clubs in this form.
Greeted rapturously by United's supporters, and in a little more tongue-in-cheek fashion by Chelsea's, he was at the heart of their best work. He orchestrated attacks, flattened John Terry in one fearsome aerial challenge and brought some parts of Old Trafford to its feet with a chase back to his own byeline to retrieve possession.
He at least cast some colour on an otherwise dull canvas. Mourinho may not have, to use one of his own phrases, "parked the bus" but he certainly set up plenty of road blocks for United as he named a side without a conventional striker.
It may have been a coded message to Chelsea owner Roman Abramovich about the current status of his other strikers or it might even have been an open invitation to Rooney as a demonstration of how much he needs him.
In reality, however, this was a typically pragmatic Mourinho selection and the catalyst for a stalemate in which neither side looked likely to score. Even in the closing moments there was no sense that Moyes was about to benefit from one of United's trademark grandstand finishes that so often happened under his predecessor.
Indeed, in all it was a pretty grim night that went rapidly downhill once interest in the team-sheet had subsided.
We can discuss tactical nuances and Mourinho's employment of the so-called "False Nine" in the absence of conventional strikers, but this would give the game a status it did not deserve. What was actually left was quite simply a very poor, tedious Premier League game lacking in quality.
While Moyes was clearly a proud man as he marched briskly down his old mentor Ferguson's well-worn touchline path to the technical area to the applause of Old Trafford, he could not complete his night with the first win of his career at "The Theatre Of Dreams".
And Chelsea never gave Mourinho any chance to re-enact his sprint along the Old Trafford touchline that brought him to prominence at Porto in 2004.
It was a result that ultimately brought a measure of satisfaction to both managers yet also illustrated exactly why they have adopted their current transfer market strategy.
Michael Carrick patrolled midfield in his usual accomplished manner but needs some high-class help, as he has done for some time. Everton's Marouane Fellaini was again the name being whispered around Old Trafford amid talk of a new offer in excess of £20m - but is the Belgian of the highest calibre to ensure United not only retain their title but restore their standing in the Champions League?
Mourinho's selection, which he said was based on his preference for mobility, did not speak well for Fernando Torres and Demba Ba, while the powerful Romelu Lukaku remained on the bench. It gave an eloquent account of why Mourinho has been so persistent, so far, in his pursuit of Rooney.
Mourinho made it clear the next move must be Rooney's. Now Rooney must decide if he actually wants to move at all.