Paul Canoville: Chelsea pioneer on racism, rehab and redemption
By Owen Phillips
BBC Sport
Last updated on .From the section Chelsea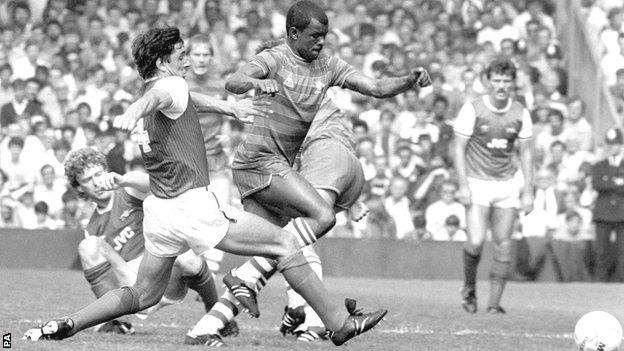 The pride that Paul Canoville felt at becoming the first black player to wear the blue of Chelsea has never diminished.
Neither has the anger at the vile racist abuse he had to endure when he made the breakthrough in the early 1980s. Much of that abuse even came from the club's own "supporters".
But Canoville has a history of dealing with adversity. He has battled drug addiction, successfully fought cancer on three occasions, seen his baby son die in his arms and coped with a "seriously complicated" personal life that has seen him father 11 children with 10 women.
He was certainly not the sort of character who was going to let his football career be ruined by monkey chants, having bananas hurled at him and being threatened with physical violence.
Canoville, a pacy, powerful winger who played for the Blues for five years from 1981, told BBC Sport: "I remember scoring a goal and hearing that some fans wouldn't have it because a black player scored. It didn't count, so they said we had lost not drawn.
"How do you live like that? I had to control my anger so many times so outsiders couldn't see. I had to see the bigger picture."
Canoville watched how his mother dealt with racism after coming over to England from the Caribbean and credits her with giving him the strength to deal with abuse.
And although the memories will never leave him, Canoville is not bitter. Far from it.
He uses his experiences positively, working part-time for Educate Through Football (ETF) for his former club Chelsea. He also runs his own business, the Motivate To Change Foundation, where he visits primary schools around the country and abroad and has recently started a new project called Motivation4Change.
"It's brilliant doing what I do," added Canoville. "I go into schools, telling them how important education is, as well as telling them what I went through - the racism, bullying, the problems, following your dreams and the good times - everything.
"My new venture is working with ex-offenders and youngsters with behaviour problems, giving them the life skills to get back into the community. I share my story."
And he has quite a story to tell - as he did in his award-winning autobiography.
When Canoville was plucked from his hometown non-league club Hillingdon Borough in December 1981, black players were few and far between.
Nottingham Forest and England full-back Viv Anderson and the West Brom trio Laurie Cunningham, Cyrille Regis and Brendan Batson were star performers and trailblazers - but also notable exceptions.
'Canners' - the nickname he uses all the time - was booed and had all sorts of racist abuse hurled at him by Chelsea fans as he warmed up before his debut in an away game against Crystal Palace on 12 April 1982.
The early years - whether home or away - were "horrendous".
"I didn't want to come out on the pitch. I would warm up inside the changing room and go out just before. I hated being a sub," Canoville said.
"When I warmed up it was 'sit down you [n-word]'. At the old Stamford Bridge I used to stay behind the goal. It was a long way to the crowd at the old ground."
And things didn't change very quickly. When he returned to play the same fixture two seasons later on 14 April 1984, the abuse was just as bad.
His then team-mate, now respected pundit and analyst, Pat Nevin scored the only goal of the game and came out in support of Canoville afterwards. Nevin called the abuse disgusting.
The Scot's intervention was hugely significant and massively appreciated.
"I respected Pat and was honoured when he came out and said what he said," Canoville said. "I was getting hardcore abuse. But he scored, and he made that statement and boy did people take notice. It eased things for me. I had family members saying 'why are you playing for them?' But that helped massively."
He left Chelsea for Reading in 1986, but his time at Stamford Bridge - which saw him help the club win the old Second Division title in 1983-84 - was undoubtedly the peak of his career.
A terrible knee injury forced him to retire from the professional game within two years. He was 24, and that was the start of a downward spiral.
Canoville's personal life became increasingly tricky. Trying to be a father to 11 children would have tested the most stable of men, but he was also fighting drug addiction.
The lowest point in his life came when Canoville cradled his baby son Tye as he died in his arms from a heart defect in 1995. But although there is no hesitation in recalling his lowest ebb, there have been plenty of other of times he would rather forget.
He thought at least he had his health. That was until he was diagnosed with cancer for the first time in 1996.
When Chelsea became the first team to win the FA Cup with a black manager in charge in 1997, Canoville watched Ruud Gullit's Blues beat Middlesbrough from his hospital bed.
"The first treatment was diabolical," recalls Canoville, who winces at the memory. "I felt so weak; it knocked me right out. I was 35 but felt 70. Your immune system has just gone. I couldn't fight a cold and nearly died."
To Canoville, the 16-year turnaround which began with him being booed by his own supporters to seeing Gullit lead Chelsea to their first major trophy in 27 years is remarkable.
Since then, Chelsea's steady improvement has coincided with Canoville getting his own life back on track.
Now 51, he looks lean and strong, ("the outside looks better than the inside") and he could easily pass for someone much younger.
Before he reached this point, he is the first to admit to not being as restrained and disciplined off the pitch as he had to be on it. And it's that message that forms a big part of his current work.
"I had a very strict upbringing but tended not to listen. I didn't think I needed to," he added.
"After the football I was properly lost. I went downhill, got involved in drugs and was in a mess. I was stealing money to pay for the drugs. It took control and then I had the cancer."
Canoville credits his former Chelsea colleague Simon Chandler with getting him into rehab and the road to recovery.
"If it wasn't for him, I don't know where I would be," added Canoville.
"Now my strength comes from what I do. I cannot wait to go in to schools. I get such a buzz from talking to kids.
"I started in 2004 with Chelsea and when they asked me I thought 'these kids weren't even born when I was playing so how do they know me'. But it amazes me. They are so enthusiastic. I just love what I do.
"Chelsea is a hook and it does obviously help but it's not just about the football. When it hits home is when I can then talk about things I went through.
"Some schools still have problems with racism and they want to act upon it and bring someone in to have that talk. That's where I come in.
"I say 'How does that person feel when they go home? And they then ask me questions. Why would that person not want to go to school? It's not right. You wouldn't want that to happen to you. I put them in that position."
It's a position he knows only too well - and he does not want others to have to go through what he went through.