Anth Smith: Gateshead exit circumstances upset ex-boss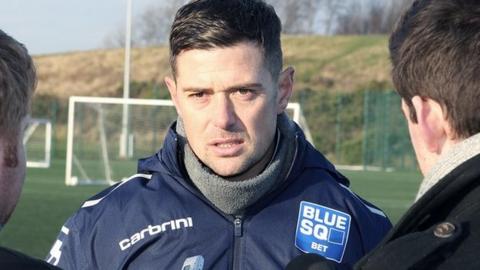 Anth Smith has said his departure as manager of Gateshead was triggered by a leak of the decision to hand in his resignation before it was accepted.
Smith had told the players of his intention to resign after
The offer had not been accepted before the news was leaked on social media, leading chairman Graham Wood to describe Smith's position as untenable.
"The information leak has caused a real issue," Smith told BBC Newcastle.
"It hasn't gone down well with the players, it has put the chairman in a funny situation."
Gateshead have lost their opening three games of the Conference Premier season, at the hands of Kidderminster, Grimsby and Barnet.
Former Sunderland defender Smith admitted he had been "frustrated" by the results from his players after a summer of recruitment, but was hopeful of returning to his post before the board accepted his decision.
"I'd knew I'd been hasty and acted immaturely, which is something I've got to learn to deal with," Smith continued.
"I wish the football club every success and I have no axe to grind with anyone."