Gareth Bale: Real Madrid boss Carlo Ancelotti happy with squad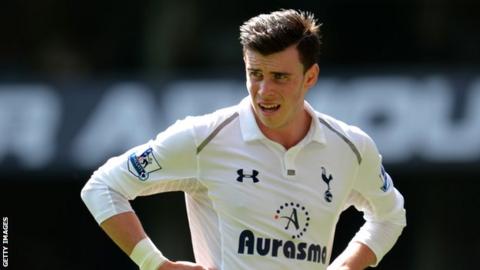 Real Madrid manager Carlo Ancelotti says the club do not need any more players, despite being heavily linked with Tottenham forward Gareth Bale.
Ancelotti confirmed that Real were in talks to sign Bale earlier this month.
Bale's camp told Spurs in late July that the 24-year-old wanted to speak to Real, who were reportedly set to break the £80m world record to sign him.
But Ancelotti, who was appointed this summer, said: "I'm very happy with the squad. We don't need any more players."
Speaking in the news conference before Sunday's league opener against Real Betis, the former Chelsea boss continued: "The important thing is to create a style of play that is comfortable for my players.
"Our objective is not only to win but to also play beautiful attacking football."
Tottenham manager Andre Villas-Boas has already criticised Real Madrid this summer for going public in their interest in Wales international Bale, who has missed most of pre-season with a foot injury.
He added: "Carlo is a person I appreciate a lot and we have great respect for each other but, bearing in mind this situation, they have decided to make it public.
"Normally, situations like this in England are scrutinised by the Football Association with lots of care and attention. We have seen lots of people speaking about a player that is not theirs and we are due some respect."
Bale will miss with Villas-Boas saying he was hopeful the former Southampton left-back would stay.
"We've been very, very clear regarding the player and our willingness to hold onto him," he told Sky Sports.
"Anything can happen in football but this is a player we cherish a lot. He has helped us progress and ideally we want to continue with him."
Bale played the first half of Tottenham's pre-season friendly against Swindon on 16 July but not played for the White Hart Lane club since and also missed Wales' 0-0 draw with Republic of Ireland on Wednesday.