Real Madrid and Barcelona's La Liga dominance is set to grow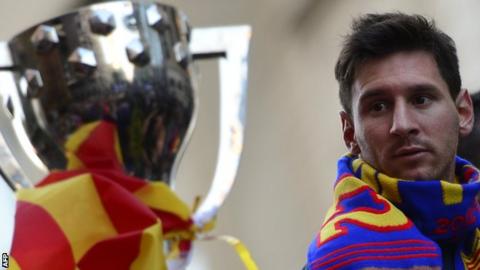 Barcelona and Real Madrid's La Liga dominance is set to grow, says the Spanish players association president Luis Manuel Rubiales.
The duo have won every title since Valencia's success in 2004.
"Collectively we are not the best league, we have two super teams but we have no equal situation between all the clubs," said Rubiales.
"These two clubs have a lot of income, more than the rest, and the difference is growing every year."
Spain's league season starts on Saturday with Barcelona defending the title they won by amassing 100 points last season, as Real Madrid did in 2012.
Unlike other leagues, there is no collective agreement between Spanish clubs for La Liga television rights with each club negotiating individually, causing an unequal distribution of wealth in favour of Barcelona and Real Madrid.
While Real Madrid and Barcelona, the world's richest clubs by revenue, continue to attract the biggest names, their Spanish rivals have seen many of their top players move abroad.
There are 14 Spanish players alone who have moved to the English Premier League for the new season, including internationals Roberto Soldado to Tottenham and Alvaro Negredo, and Jesus Navas to Manchester City.
Spain's Thiago Alcantara has gone to Bayern Munich, Argentina striker Gonzalo Higuain to Napoli, and Colombia striker Radamel Falcao to Monaco.
"Of the five top leagues, we have the worst salaries of these leagues," Rubiales told BBC World Service when asked why players were leaving Spain.
"Only one euro of every three is going to the salaries of players. The other leagues is around 50 per cent.
"The second point about taxes is so bad for Spanish players. The third point is the salaries every year are going down."