Marouane Fellaini: Everton celebrate release clause expiring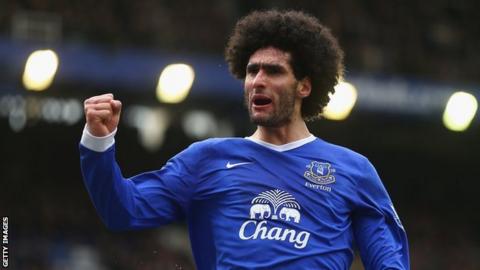 Everton boss Roberto Martinez said he celebrated after the release clause in midfielder Marouane Fellaini's contract expired on 31 July.
The Merseyside club had previously refused to comment on reports there was a deadline in his contract whereby a £23.5m bid could trigger a move.
Martinez said: "As you can imagine, for a manager that gives you a real sense of celebration when that day arrives."
Fellaini, 25, had been linked with both Chelsea and Manchester United.
However Everton say they have not received any bids for the midfielder.
Martinez said: "I don't think I am giving away anything that nobody knows. It's well documented that Marouane's contract has a clause - that clause expired on 31 July."
Fellaini, a £15m signing from Standard Liege, extended his contract in November 2011, signing a five-year deal to keep him at Goodison Park until the summer of 2016.
Martinez added: "We are focussing on the league. You are not going to stop the speculation; if there are any players coming in or going out the fans will be the first to know.
"But we are in a position where I don't mind to have other clubs looking at my players because that means they are doing good things."