Lee Johnson: Oldham Athletic manager looks for new defender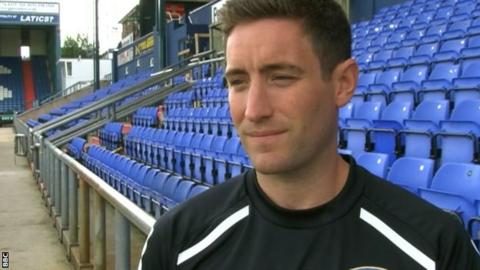 Oldham manager Lee Johnson says he is looking to sign another defender following an injury to David Mellor.
Mellor, 20, suffered a hamstring strain in Saturday's 1-0 defeat by Walsall, a performance Johnson was not happy with.
"When people put in a performance like that, maybe you do bring a couple in and shake it up a bit," he said.
"Certainly with Mellor going down, I'll have a serious look at it this week and see what I can do and probably bring in some sort of defender if possible."
Oldham have only brought in one new defender since the end of last season, signing Latvian Under-21 international Edijs Joksts, who is yet to make an appearance.
Johnson also says he will look at some more trialists in the coming weeks as he looks to add depth to his squad at Boundary Park.
"There are free transfers out there and there are loans out there so there are certainly people knocking at the door wanting to come in," he told BBC Radio Manchester.
"We've just got to see whether or not they are good enough to make a difference."