How Uefa's seeding system helps Arsenal & hinders Celtic
Last updated on .From the section Football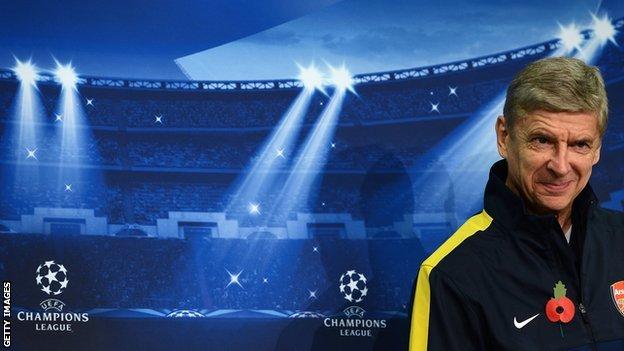 Safely into the group stage of the Champions League for a 16th straight season, having outclassed Fulham in the Premier League on Saturday, for Arsenal the immediate crisis is over.
But are they really one of the best six sides in Europe, as Uefa's seeding system would have us believe?
You might question why a team that has not got beyond the last 16 of the Champions League in the past three seasons or finished higher than third in their own domestic league since 2005 - the last year the Gunners won a trophy - are still ranked as one of the heavyweights and given a more favourable draw because of it.
But the closer you look at how Uefa calculates the coefficient from which it ranks and then seeds clubs, the clearer it becomes that it is likely to preserve the status quo.
Every club's results in European competition over the past five years are counted equally, with no weighting to favour the most recent seasons - so the seeding reflects long-term consistency, rather than rewarding recent excellence.
Whether you think it is fair probably depends on which club you support and which country you come from.
Although domestic results are not part of the calculation, the national coefficient counts towards each team's total too - so it is better to come from a country with a stronger record in Europe.
Who benefits?
Arsenal's coefficient puts them in pot one with the top seeds for the Champions League group stage draw in Monaco on Thursday, alongside holders Bayern Munich, Real Madrid and Barcelona, who are ranked first.
The seeding means Arsenal - like Manchester United and Chelsea - automatically avoid some of the biggest and best teams in Europe and increase their chances of meeting some of the weaker sides in the draw.
This is particularly important for Arsenal if you study their recent results in the competition.
The Gunners, who have finished fourth in the Premier League in five of the past eight seasons, have got out of the first group stage 14 times out of 15 since 1998-99, reaching one final, one semi-final and four quarter-finals, but their best recent run came when they reached the last eight in 2010.
They have been a pot one (or top-eight ranked) team in each of the past 10 campaigns, but have not beaten another top-ranked side since they eliminated AC Milan in the last 16 in 2007-08.

Their only aggregate wins over a team ranked in the top 15 since then were over Villarreal (ranked 12th) in 2008-09, and Porto (15th) in 2009-10, the last time they won a knockout match in the competition proper.
In comparison, last season's runners-up, Borussia Dortmund, were ranked joint 65th (five places above Bolton) when they reached the final as a pot four team. The German side are still only ranked 31st this campaign (with a coefficient of 61.922) and will be in pot three, along with Manchester City (70.592).
City had a disastrous European campaign last season, finishing bottom of Dortmund's group without winning a game, yet their ranking actually went up - from 28th to 22nd - because they still picked up more coefficient points than teams around them.
The only way for your coefficient to fall significantly and quickly is to be out of Europe altogether, as Liverpool are finding out.
The Reds were ranked second in 2009-10 but are currently 17th (78.592) and are likely to fall out of the top 30 by next season.
Maintaining the status quo
Given a favourable draw - which for Arsenal, Manchester United and Chelsea probably means avoiding the likes of PSG, Dortmund or Napoli this time around - it is possible for pot one teams to maintain a coefficient high enough to keep them there solely through good results against lower-ranked teams in their group.

Arsenal are a prime example of this sort of 'flat-track bully'.
In the past five seasons, the average rankings of the other teams in the Gunners' group has been 55, and they have not even had any dark horses like Dortmund were last year to deal with - in fact, the furthest any of their group rivals has got in that time is the quarter-finals. That happened three times, and the teams involved (Marseille, Shakhtar Donetsk and Porto) lost by a 13-3 aggregate scoreline.
The Gunners, who have had an average ranking of five in the same period, still only topped their group twice, but qualified for the last 16 on each occasion, for which they received five bonus coefficient points to go with the ones they picked up for their results.
So they got an easier group because of their seeding, and consequently qualified from it to get bonus points that gave them an extremely good chance of the same thing happening again the following season. Which it did.
No wonder Arsenal boss Arsene Wenger said on the eve of last season's draw: "It is important to be seeded."
Possible best/worst case group stage scenario

Chelsea/Man Utd/Arsenal

Best case: Marseille, FC Basel, Austria Vienna

Worst case: Paris St-Germain, Borussia Dortmund, Napoli

Man City

Best case: Benfica, Marseille and Austria Vienna

Worst case: Bayern Munich, PSG and Napoli

Celtic

Best case: Benfica, Marseille, FC Basel

Worst case: Barcelona, PSG and Borussia Dortmund
Who loses?
Not everybody is so lucky - and Celtic fans should probably look away now.
The system is stacked in the favour of teams from stronger nations, with each club picking up a fixed percentage - 20% - of their nation's overall coefficient to add to their own. That does not add up to much if you are Scottish.
The top leagues see varying numbers of their clubs qualify automatically for the group stages of the Champions League in the first place - Spain, Germany and England get three, and another in the final qualifying round.
Being in the group stage not only guarantees you vast financial reward (£7.4m basic, plus £850k for every win and £425k for every draw), it immediately gives you four coefficient points before you start, and six games to earn more with your results. The party continues even if you finish third and are parachuted into the Europa League.
That happened to Chelsea last season, when they actually earned more coefficient points for winning the Europa League (27) than Real did for reaching the Champions League semi-finals (26), which kept them above the Spanish giants at number three in the 2013 rankings.
By reaching the last 16, Celtic went as far as Arsenal and Manchester United, and further than Chelsea and Manchester City. They also pulled off one of the biggest upsets of last year's competition when they beat Barcelona in the group stage - not that it helped them much.

At the time, Neil Lennon's side were ranked 63rd and Barca were number one but, unlike Fifa's ranking system, Uefa awards teams the same number of points for a win, no matter who the opposition are and how far they are above or below the victors.
So, Celtic received two points for beating a Barca side 62 places above them in Group G, as did Chelsea, ranked third, for beating Danish minnows FC Nordsjaelland, ranked 168 places below them, in Group E.
And the Bhoys' reward for reaching the knockout stage for the first time in five years was for their ranking to improve by only one place for this season, because the points they picked up on that occasion, in 2007-08, no longer count.
In terms of qualifying, they took one step backwards, entering in the second qualifying round rather than the third and starting their Champions League campaign only 10 days after Andy Murray provided Scottish sport with one of its finest hours by winning Wimbledon.
That was because of Scotland's plummeting national coefficient, a situation accentuated by the financial crisis at Rangers which saw them fall off the European radar.

Scotland's hopes of improving their coefficient again rest with Celtic, who were the only Scottish team left in European competition by early August, after they overcame a two-goal first-leg deficit in their Champions League play-off tie with Kazakhstan's finest, Shakhter Karagandy.
It took a last-minute winner from James Forrest, but the Bhoys are into the group stage, immediately collecting four vital coefficient points in the process.
Karagandy, incidentally, are ranked 320th and would have become the lowest-ranked club to progress that far in that competition.
People panicked about England's coefficient when no Premier League clubs reached the quarter-finals of last season's Champions League, but Chelsea's Europa League success kept England above Germany, in second place.
Rather than catching up with England, Italy, who are fourth, only just avoided being overtaken by Portugal because of their lack of progress in the Europa League.
Only two Serie A clubs have reached the Europa League quarter-finals (Lazio last season and Udinese in 2008-09) in the past five years, despite other Italian clubs giving them financial incentives to take the competition seriously in order to improve the national coefficient.
Changing the system
Celtic boss Lennon said he was "baffled" to find his side having to enter qualifying so early this summer, adding: "It's very, very harsh. I suppose that's the rules and you have to accept it but I don't think it is fair considering the season and the amount of games we have just had in Europe."
There have been dissenting voices before - Jose Mourinho could not believe why Chelsea, as English champions, were only in pot two in 2006, ditto Roberto Mancini as Manchester City boss in 2012.
But there has been no collective or official complaint. The only changes to the system in the past decade have seen the percentage awarded to each club of their country's coefficient drop from 50% to 33% in 2004, and then to 20% in 2008.
Uefa told BBC Sport that requests for any alterations or alternatives come through its Club Competitions Committee, which includes representation from the European Club Association, formed to replace the G-14 group in 2008 and currently representing 204 clubs from 53 national associations, including all but one of the 32 clubs still in the Champions League.
Only Spanish side Real Sociedad are not members. The vast majority are, and nobody seems too keen to rock the boat.
An ECA spokesman said: "The ECA supports the current coefficient system used for the seedings. These changes have been discussed a couple times in the past, but the current system is considered as satisfying in general.
"It might be that some individual clubs sometimes feel somehow disadvantaged by the system, but these are isolated cases and can for sure not be generalised."
In any case, the seeding system will not change for the next six years. The regulations for the next cycle of Uefa club competitions, from 2015 to 2019, were agreed in May.
That means Arsenal fans can rest easy and continue to celebrate their coefficient - they might even have won a trophy by then too.