Aston Villa's Graham Burke joins Shrewsbury Town on loan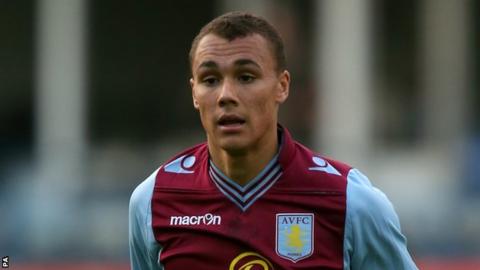 Aston Villa striker Graham Burke has joined League One side Shrewsbury Town on loan until January.
The Republic of Ireland Under-21 international, 19, has featured twice for Villa's first team.
"We've been after him for a few months, but his involvement with Villa delayed the signing," Town boss Graham Turner told BBC Radio Shropshire.
Burke's signing comes after fellow forward John Marsden was ruled out for up to eight weeks with a broken foot.
Summer signing Marsden, 20, came off injured in the 18th minute of Shrewsbury's 3-1 Capital One Cup defeat by Bolton on Tuesday, and now appears to be out for a similar time to defender Dave Winfield, who has a hamstring problem.
"It's a shame for John having tasted his first League football to have broken a bone in his foot and he will probably be out for six to eight weeks," said Turner.
"Dave Winfield's the same, it's looking to be about eight weeks before he's available to us. They are serious blows to us, but we can overcome that."
Turner also revealed that Town had agreed to bring in a player on loan earlier this week, but that the player then pulled out of the move at the last minute.
"We'd agreed on Tuesday for a player to come in on a half-season loan, and followed that up with all the details," he added.
"But I had a phone call from the player who decided it's not in his best interests to join. It's a player that supporters would have known well but we're disappointed with that one."
Meanwhile, Shrewsbury have re-appointed Clive Richards as chief scout following a short spell at Charlton and enlisted the help of former Stoke City director of football John Rudge as a part-time scout.