Patrick Agyemang: Portsmouth striker smarting from Oxford defeat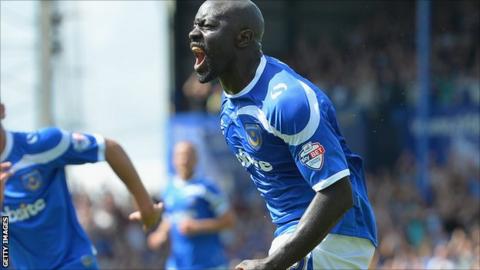 Portsmouth striker Patrick Agyemang has described Saturday's season-opening defeat by Oxford United as "a big eye-opener" as to what life in League Two is going to be like.
Portsmouth lost 4-1 at a sold-out Fratton Park and had captain Johnny Ertl sent off.
Agyemang, who scored Pompey's goal, said they need to learn from the match.
"That was definitely not in the script and the last thing anyone thought," Agyemang told BBC Radio Solent.
Pompey took the lead before Oxford's fightback stunned the 18,200 crowd.
And Agyemang, 32, says they only have themselves to blame for the loss.
"If you give away silly goals, it does not matter what league you're in, you are going to get punished," he said.
"We were in control, we were the only team in it after 30 minutes. But we made two mistakes and they had two goals.
"Then we had the red card and everything went against us."
He added: "We just need to write it off, it is the first game of the season and it is a big eye opener and this is what we have to deal with.
"Teams are going to throw everything at us and we need to rise above it."