Rangers: Walter Smith quits as chairman at Ibrox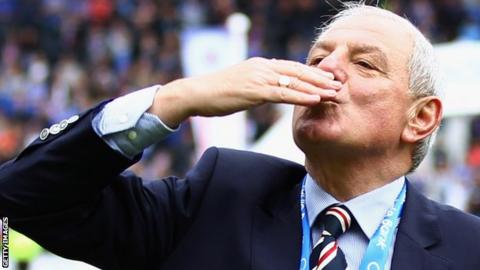 Walter Smith has resigned his post as Rangers chairman following a period of bitter infighting at Ibrox.
The former manager, 65, has only been in the non-executive position since May, when he replaced Malcolm Murray.
Smith lifted 21 major trophies over two periods in the Rangers dugout before handing over to Ally McCoist in 2011.
Rangers chief executive Craig Mather said he was "saddened" by Smith's departure, adding that he "fully understands the concerns of fans".
The Scottish League One club released a brief statement to the London Stock Exchange, simply stating: "Rangers announces that Walter Smith has today resigned from his position as chairman and a director of the company with immediate effect."
His resignation comes after McCoist reacted angrily to remarks made by former chief executive Charles Green, who has returned to the club as a paid consultant.
Green was quoted in a national newspaper saying that McCoist's position might not be safe even if he delivered the League One title - he also reiterated his claim that the current Rangers squad is the worst in the club's history.
McCoist described Green's behaviour as appalling and insisted the man, who stepped down back in April, was an embarrassment to the club.
The weekend bust-up came just hours after Mather hit out at a group of shareholders who have made steps to remove him from his position.
The group, thought to be led by Scottish businessman Jim McColl, want the removal of Mather and fellow directors Brian Stockbridge and Bryan Smart.
Mather, who has only been in the position permanently since last month, called the move ill-timed and ill-informed.
Commenting on Smith's resignation, Mather added: "Walter has his own reasons for this decision but exactly when he discloses them to everyone is up to him.
"I am certain the last thing he would want to do is damage the club more than is necessary. After all, he returned to Ibrox to help rebuild the club, not to disrupt that process.
"However, I have to accept his decision and respect it. But even though he has stepped down he has made it clear that if I feel the need I can call him at any time".
Smith returned to Ibrox at board level in November after being involved in a failed takeover attempt with McColl shortly after a Green-led consortium had purchased the liquidation-bound club's assets and business last June.
Former Dundee United player and coach Smith became a Rangers assistant in 1986 as part of Graeme Souness's management team and was promoted to the top job five years later.
Smith followed Souness's two successive league titles with seven more to equal Celtic's record of nine in a row.
After leaving Ibrox in 1998, Smith managed Everton and Scotland before returning to Rangers in 2007 and, with McCoist as assistant, he led the club to three more titles.
The Rangers Supporters Association, Rangers Supporters Assembly and the Rangers Supporters Trust issued a joint statement outlining their concerns.
The fans' groups want the extraordinary general meeting called for by Mather's opponents to go ahead to "enable the thousands of fans who have invested in the club to hear all sides in an open forum".