Tottenham: Clint Dempsey signs for Seattle Sounders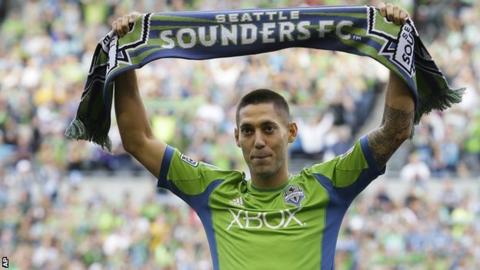 Clint Dempsey has left Tottenham to join Seattle Sounders in his native United States.
Spurs agreed a fee with Major League Soccer for the striker on Saturday.
Dempsey, 30, only joined Andre Villas-Boas's side last summer in a £6m move from Fulham and is believed to have departed for a similar price.
Spurs have agreed a deal to sign striker Roberto Soldado from Valencia, which is likely to have restricted Dempsey's first-team chances.
He played 43 times for the White Hart Lane club, scoring 12 goals.
"I am very excited about coming back to the MLS and thrilled to be joining Sounders," said Dempsey.
"Having recently played in Seattle with the national team, I experienced the incredible atmosphere and the passion from the supporters first-hand. It's going to be an honour to represent the fans in Seattle."
Sounders majority owner Joe Roth added: "This is a historic day for Sounders FC and our fans.
"Clint is a world-class soccer player who can take this club to a higher level. We have been consistent in our message to the fans that we will spare no expense to win trophies."
Dempsey, who has 99 caps, left New England Revolution in his homeland to join Fulham in January 2007.
He scored 50 goals in 184 league appearances for the Cottagers before Spurs beat Liverpool and Aston Villa to his signature.
The Sounders went into the weekend's games seventh in the Western Conference of the MLS and have former Fulham players Marcus Hahnemann and Eddie Johnson in their squad.