Solving the mystery of the first goal in league football
By Paul Fletcher
BBC Sport
Last updated on .From the section Football123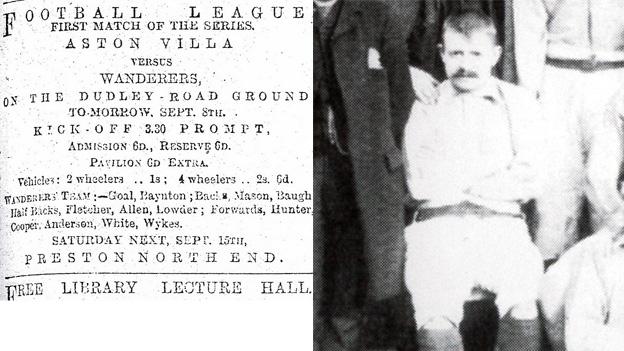 Robert Boyling was in the newspaper archive of the British Library in Colindale, London, when he made the discovery.
There it was, high on the left-hand side of a crowded page of the Midland Evening News from 7 September, 1888.
It was the advert that appeared to prove who scored the first goal in league football, anywhere in the world.
Not quite the Rosetta Stone, but to Boyling and his friend Mark Metcalf it was a source of huge satisfaction.
There has always been debate as to who scored first when the Football League started with five fixtures on 8 September, 1888.
Some claim the honour belongs to Preston striker Fred Dewhurst, who struck after three minutes of his team's match against Burnley at Deepdale.
Preston, known as the Invincibles after going through the season undefeated, won that game 5-2 but it had not started until 3.50pm.
An article in the Cricket and Football Field newspaper reported that Bolton's game against Derby County had been delayed by 15 minutes and started at 3.45pm after the visitors had turned up late.
That was not unusual in those days and reports often started by stating the time when the match kicked off.
It did not take Bolton long to take the lead, winger Kenny Davenport striking after two minutes with what the report in the Cricket and Football Field described as "a fine goal".
But the goal most widely assumed to have been the first took place in the match between Wolves and Aston Villa.
Villa full-back Gershom Cox put the ball into his own goal after 30 minutes - and with kick-off starting at 3pm it meant the unfortunate defender had his place in history.
However, something about the kick-off time rankled with Metcalf, an effusive and talkative football historian who was researching a book about the 1888-89 season.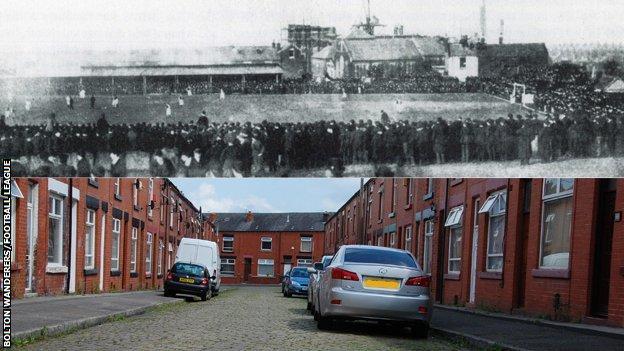 It struck him as too early. Most supporters would have worked a half day in the morning and Villa fans would have been hard pushed to eat their dinner and make the trip to Wolverhampton in time, especially when the relatively low number of turnstiles at a ground meant it often took more than an hour to get everybody in.
He scoured the libraries in the Birmingham area, often combining his research with trips to watch his beloved Sunderland, but all to no avail.
His friend Boyling, a life-long Millwall fan who is a library assistant at the British Library, agreed to help out. His discovery this year in the Midland Evening News showed that the kick-off in the Wolves-Villa game was advertised as 3.30pm. Matches might have regularly started late, but never early and so Cox's own goal was not scored until at least 4pm.
It was a discovery that leaves little doubt that Bolton winger Davenport scored the first league goal, with that going in at 3.47pm.
"It is like the tombs of Egypt, a little mystery solved," said Gordon Taylor, now the chairman of the Professional Footballers' Association but himself a former Bolton winger who has assisted Metcalf with some of his previous books.
"It would be great to get a plaque at Bolton."
Davenport, a local lad born close to the Pikes Lane ground where the fixture took place, quickly added a second goal although Bolton went on to lose 6-3.
The sport looked very different back then. There were no numbers on shirts, nets in the goals or substitutes waiting for their chance.
The referee stood on the touchline and acted both as a timekeeper and an arbitrator between the two umpires, one supplied by each team, when they could not agree.
It was difficult for journalists to accurately report what happened. They were often a long way from the action, looking at players they had never met before. The absence of numbers on the shirts and the muddy state of some of the pitches meant that reports occasionally missed who had actually scored.
Yet some things have evidently not changed over the last 125 years, with the report in the Cricket and Football Field stating Davenport's opening goal was awarded after "a protest for offside was raised in vain".
Admission that day at Bolton was 3d and 6d (2.5p), with the stands extra. A season ticket could be bought for between five shillings (25p) and a guinea (£1.05). The crowd was around 5,000, which was viewed as disappointing.
Davenport had joined Bolton from local side Gilnow Rangers in 1883 and went on to spend nine seasons at the club. He was an ever-present in the inaugural league season and played twice for England.
Not much is known about what happened to him after he retired except that he died in 1908 at the age of 46.
The 1888-89 season was the realisation of a vision outlined by Aston Villa secretary William McGregor, who on 2 March, 1888 wrote to several other clubs appealing for the formation of an organised football league. Professionalism has been legalised in 1885 but until McGregor, the sport lacked the structure to allow clubs to develop.
League football has obviously flourished since then, with the concept quickly spreading across the globe.
The new Football League season starts this weekend, with six special fixtures designed to mark the 125th anniversary and, as part of that, Burnley will host Bolton at 12:15 BST on Saturday in the first Championship match of the campaign.
That, of course, will take place at Turf Moor, while Bolton now play their home games at the Reebok Stadium. Bolton had left Pikes Lane in 1895 for Burnden Park, where they remained for 102 years. Pikes Lane was long ago demolished and replaced by terraced housing.
But thanks to the tenacity of Boyling and Metcalf we now know that it was there that Davenport claimed his place in history.