Richard Scudamore defends Premier League's England role
Last updated on .From the section Football675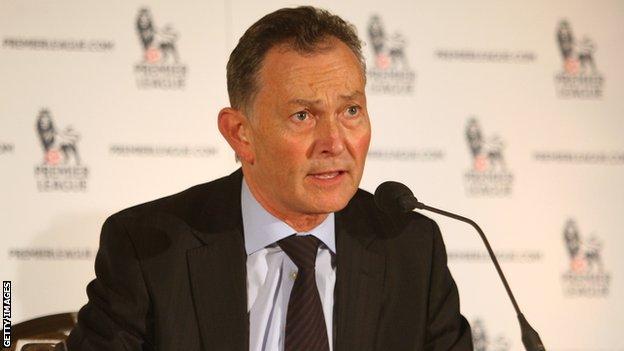 Premier League chief executive Richard Scudamore says it is "nonsense" to blame the recent failures of England's age-group teams on the top flight.
There has been criticism from some ex-managers and players who say the Premier League is hindering progress.
But Scudamore said: "That's nonsense, absolute nonsense."
Research has shown the playing time of English players in the under-21 age category in the Premier League has fallen to its lowest level.
Ex-England manager Graham Taylor claims the success of the Premier League has come at the "expense of English players".
Former captain Gary Lineker accused the Premier League of having a "disregard for the best interests" of the national team. and ex-England boss Glenn Hoddle says there needs to be a "focus on elite English footballers at very young ages".
Meanwhile, outgoing Football Association chairman David Bernstein believes there is a "desperate need" to increase the number of English players in the Premier League.
However, Scudamore jumped to the defence of Premier League clubs and attempted to brush aside the notion that English players are being stifled by the number of overseas players in the top flight.
"There were 210 players qualified to play for England, playing in the Premier League last year," said Scudamore.
"And we ought to be able to find 11 to take the field to do well. Those players are playing week in, week out against the world's best talent.
"Our responsibility is to make sure the youth development systems in this country are as good as they can be. That huge investment, £320m, in the elite performance plan is starting to see results.
"We're starting to see more English-qualified people coming through the academies, we're starting to see more take part in first teams.
"All we can do is be responsible for some of the input. Clearly, our responsibility ends once those players go off and are selected."
Stuart Pearce was one of the victims of the failure of England Under-21s to perform at the tournament in Israel after his contract as Under-21 coach was not renewed.