Hearts: Gary Locke admits staying up is 'a big ask'
Last updated on .From the section Football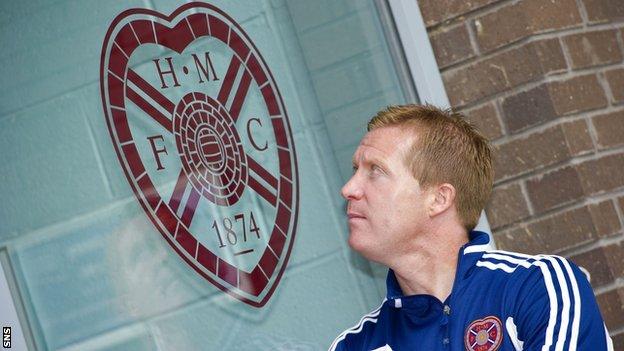 Hearts manager Gary Locke admits preparing for the new campaign is "a daunting task".
The club entered administration this month and are due to start season 2013-14 with a 15-point deduction.
"There's no doubt about it, we've got a thin squad, we've got a very young squad," Locke told BBC Radio Scotland.
"It's going to be a very, very big ask. If we can avoid relegation this season, that's as big if not better an achievement that winning any cup."
Administrator BDO announced that some players would be leaving the club and John Sutton confirmed his departure this week, with the striker then joining his former club Motherwell.
Others have accepted wage cuts to remain at Tynecastle.
"I certainly wouldn't hold that against John," Locke said. "He's got a family to look after, he's got a wee bit of security with an extra year [at Motherwell].
"I wish John all the very best. He's been a fantastic lad to work with and I hope he goes on and does well for himself.
"I'm certainly hoping that no other players go because we've got a squad of 21 and out of that 21, there's five or six that are just in their second-year of apprenticeship.
"What's been a delight for myself now is that I'm surrounded by a squad of players that all want to be at Hearts.
"The older lads that took wages cuts - Jamie Hamill, Ryan Stevenson, Jamie MacDonald - I can't speak highly enough of these lads because they could probably have gone elsewhere and got more money, if not the same.
"But they're willing to stay and fight for the cause and if you're surrounding yourself with people like that, I think we've got a chance."
Hearts are currently subject to a Scottish Premier League-imposed registration embargo and could face further sanctions from the Scottish Football Association for entering administration.
But Locke has urged the SFA to be lenient.
"We have already been punished," he said. "If they give us another transfer embargo, they're punishing us for the same thing twice. The SPL have punished us, quite rightly so, we've got a transfer embargo at the moment.
"If the club can get out of administration, it's a wee chance for us to move forward. Hopefully, common sense will prevail, the SFA will be okay and they'll let us carry on under new owners.
"Hopefully, we'll not have some of the nonsense that's gone with the club in the past and we can move forward as a proper football club.
"The only way we can do that is by trying to get players in, strengthening the team and trying to be competitive."