Brazil protests have not harmed Fifa - Sepp Blatter

By Ben Smith
BBC Sport in Rio de Janeiro
Last updated on .From the section Football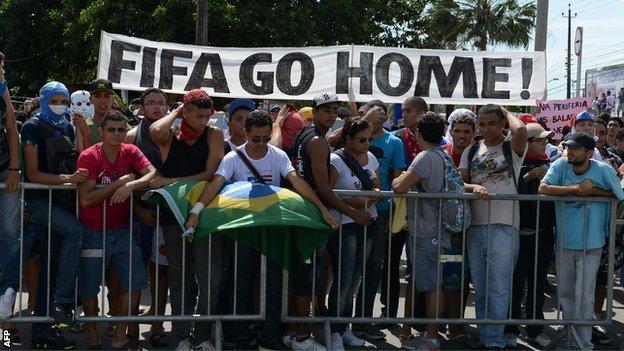 Fifa president Sepp Blatter believes football's governing body's reputation has been enhanced by the Confederations Cup, despite the demonstrations that have swept across Brazil.
Speaking for the first time since the protests began, Blatter said he had sympathy with people who took to the streets in 100 cities across Brazil.
A further protest is expected before Sunday's final between Brazil and Spain at the Maracana in Rio, while there are doubts about whether President Dilma Rousseff will attend the match.
"Fifa has come out of this stronger, with our image enhanced. Football has played a positive part here and given emotion," Blatter said.
"When we say football connects people, it connected people in the stadium, perhaps unfortunately it also connected people in the street."
Blatter said he had sympathy with the issues being raised by the peaceful protests and he went on to say that he hoped the government would clear up the social unrest before next summer's World Cup.
He said: "I can understand this social unrest, absolutely, I can understand it. But on the other hand, football brings at this time to the whole continent, because Brazil is a continent, these emotions and hope that the cabinet can change something.
"This is not our problem, it is a political problem, but we hope something will be changed so that by the time the World Cup begins next summer we can have a platform to deliver it.
"We have patience, trust and confidence in the government."
Fifa has been criticised in Brazil for making a tax-free profit out of the World Cup and leaving the hosts to make all the investments, something which Blatter challenged.
"The aim of Fifa is not to take profit out of the country but to put into the country the necessary help and means to make sure this World Cup is a success," he said.
"The World Cup provides practically 90% of the income of Fifa to ensure we can develop the game around the world. Hope is in football. We play football in all perturbed countries, not just where there are belligerent situations like Syria and Afghanistan.
"Look at European countries, there is social unrest, in Portugal, France, Italy, Spain, in Turkey, in Greece and football is still played.
"I'm sure the World Cup next year will be a success and I trust the organisation and the organisation of the security."
Blatter, who left the tournament last week as the protests reached their peak, also hit back at reports which suggested he had fled the country without warning.
He insisted he had only been fulfilling a previous commitment to attend the Under-20 World Cup in Turkey.
"In no way can it be said I escaped my responsibilities, on the contrary I assumed two responsibilities at the same time," he said.