Coventry City: Transfer embargo still to be lifted, says Waggott
Last updated on .From the section Football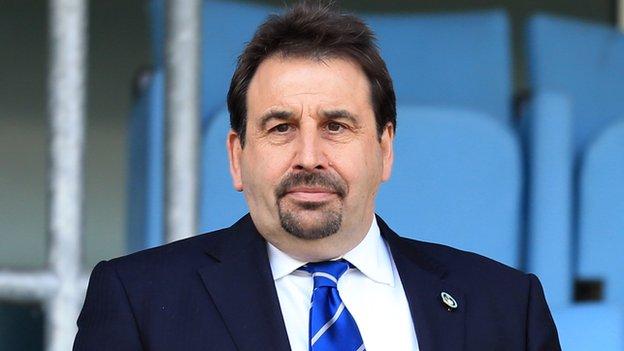 Coventry City could still have another fortnight to wait before they are in a position to start buying new players to strengthen for the coming season.
The Sky Blues are still officially in administration, despite this week's purchase of the League One club by new owners, the Otium Entertainment Group.
And they remain under the same transfer embargo placed on them in March.
"We're talking to the league to make sure we have a competitive squad on the pitch," said director Steve Waggott.
"But I would think there will be a couple of weeks to go between where we are now and where we need to be to get out of embargo," he told BBC Coventry & Warwickshire.
After reporting back for pre-season training on Friday, the Sky Blues staff have just over a month to prepare for the new League One campaign kicking off on 3 August with a trip to Crawley.
And, in that time, the club's 'new owners', who still appear to have much the same make-up as their previous owners Sisu, still have the issue of where the club are going play - ahead of the first scheduled home game against relegated Bristol City on 10 August.
Chief executive Tim Fisher revealed earlier this month that the club are in talks with three fellow league clubs, all within a 30-mile radius of Coventry, about a potential groundshare deal, while they press on with plans to build a new stadium in the city.
But they have also reportedly been offered the chance to play at the Ricoh Arena "free of any rental fee".
That would be a more positive outcome to the long-running rent row with their landlords Arena Coventry Ltd.
But, after all the off-field issues which ultimately undermined their bid for promotion last season, Waggott insists that the chief priority for manager Steven Pressley and his staff is simply to maintain their sense of professionalism.
"The players are aware of it," said Waggott. "The manager is aware of it. We're all aware of it.
"But all the backroom staff, Stephen Pressley and the entire team, have worked away on the basis of resilience, on teamwork, on focus and on professionalism.
"That's the four cornerstones that the players must take into training and onto the pitch when the season starts.
"All the pitches have been completely overhauled. They look stunning. And the players are coming in smiling and beaming.
"But, after they've gone through the beep tests and other conditioning tests the smiles may have faded."