Archie Macpherson - the Team Talk XI
Last updated on .From the section Football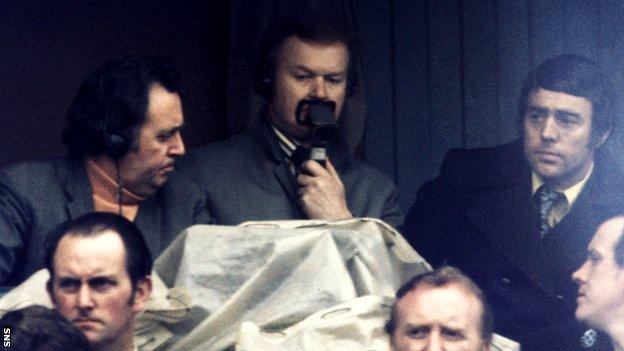 Archie Macpherson's commentating career has spanned over 45 years, with his voice synonymous with football for generations of Scottish fans. Here, he chooses his Sportsound Team Talk XI.
I could have picked three other XI's with the greatest of ease. My criteria were quite simple; there were standards, ones you could not possibly miss because of their intrinsic greatness, and then there were those for whom I had a sentimental attachment.
That didn't diminish their stature in any way, but they were special for me, so let me stress it's very subjective.
Goalkeeper - Bobby Brown
I've seen some marvellous goalkeeping displays through the years from a whole variety of names. We lived in the East End of Glasgow, and every Saturday I would go with my grandfather on the bus to either Cathkin Park or Hampden. I was there the day this sliver of a boy ran out onto the pitch to play for Queen's Park, and he was remarkable. It was a memorable performance because he was only 16.
He went from Queen's Park to Rangers, and played for 10 years for Rangers and then went on to become Scotland's manager. He was the last amateur player to be picked for Scotland, because he was with Queen's Park when he won his first cap.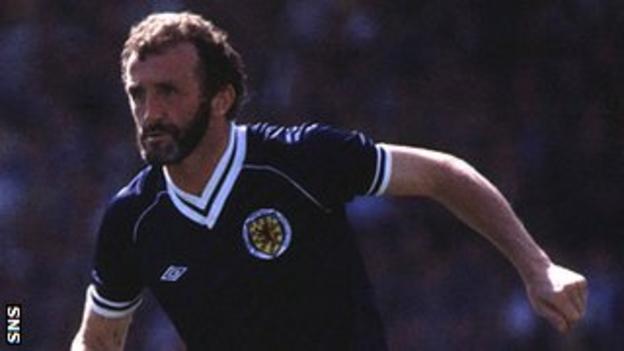 Right-back - Danny McGrain
Again, there's a sentimentality about this, because Danny had a hard life. He developed diabetes, and I was there at the hotel when he was diagnosed at the World Cup in Germany in 1974. And we thought it would put paid to his career, which would have been a tragedy, as he was outstanding.
He was fast, he was mobile, he could cover the territory that is so important in football now between the two 18-yard lines, a great eye for a diagonal cross-field pass and tremendously hard in the tackle.
He had one flaw - he couldn't score goals! It was astonishing. Even as a commentator with a mic at my lips you used to want to put the mic down and shout: "For God's sake, shoot!" Think of Dani Alves in the Barcelona team today, he was that kind of a player - I think a better player than Dani Alves, who I think is extremely suspect defensively.
The consummate professional - I remember sitting beside Jock Stein in the stand in Dortmund in Germany and the Scottish team came out an hour before the game and Danny walked across the field and down this side of the field looking at the grass, and Jock turned to me and said: "A real professional...he's counting the grass out there."
Centre-half - Billy McNeill
Billy was a leader, that is the first thing that comes to mind. The chest out, the head held high, the pride in the way he played, inspiring people around him.
He kicked the ball up the park - he was not the most creative centre-half - but immense in the air, both in defence and in attack. His best performance ever was in Dukla Prague in the semi-final of the European Cup.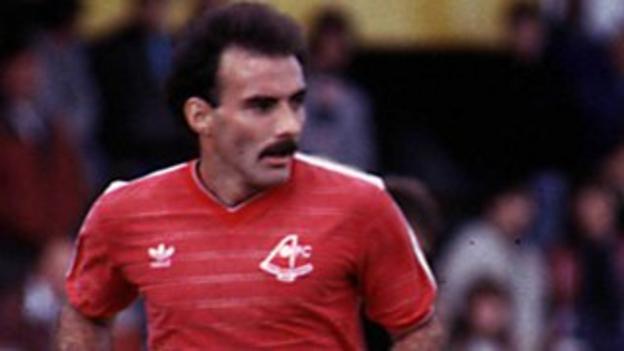 Left-back - Willie Miller
Sir Alex Ferguson said he was the greatest penalty box player of all time, and he was.
He was made Aberdeen captain at the age of 21, they saw his qualities almost immediately - he's calm, he's careful, he's measured and that calmness is something that you carry out with you onto the football field.
And for a defender in particular that kind of inner calm is a great basis upon which he did all that work in the penalty area.
Left-half - Dave Mackay
Dave Mackay I first saw at Tynecastle as a youngster, and whenever you saw Hearts surging from midfield, it was Dave Mackay who was there, and I remember, around the penalty area in particular, his defensive qualities. He was sometimes brutally hard.
I suppose when you think of his style now he would be called a holding player, but holding players don't score 76 goals.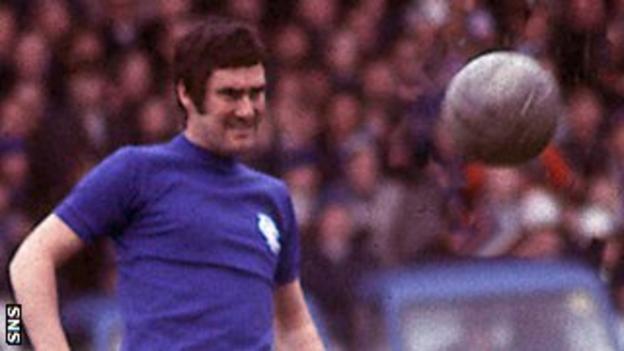 Right-half - Jim Baxter
When he came to Ibrox with that wonderful left foot of his - immaculate passing. He was lucky that he had some hard grafters around him.
His keepie-uppie at Wembley is well-documented, what is less well-known is the friendly Scotland played against Brazil in 1966. Pele was playing there, and Baxter outshone him that day. Stevie Chalmers scored the goal for Scotland in a 1-1 draw, but Baxter was immense.
Although we didn't have the benefit of global television in those days, people in the game knew good players, they heard about good players but they wanted confirmation. It was a case of, 'we've heard about you, now show us what you can do'.
Well, Baxter that day was superb; the way he was passing the ball more than anything else, he was tremendous, and gallus, as witnessed by the Wembley thing, which I think is a little overdone - it was a bit of self-indulgence on Jim's part.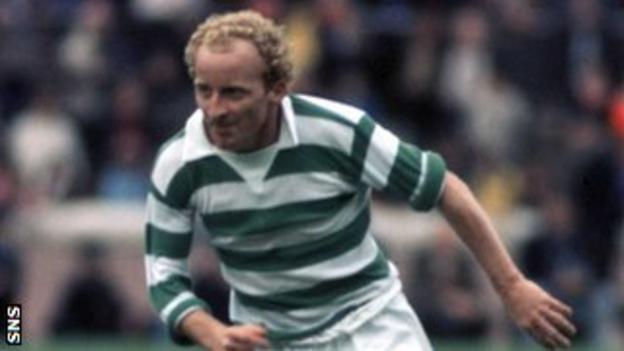 Right wing - Jimmy Johnstone
He used to be battered on the football field, I mean he was kicked black and blue because of the player he was, because of his sudden change of pace, his quickness that came from his addiction to training. He was a hard worker.
Inside right - Jimmy Mason
This is one that many people would regard as an extremely personal choice, but he was a great player. Mason played for Third Lanark and was a measured midfield architect.
He was the purveyor of the perfect pass. Nothing ever strayed from his foot, it was impeccable, Iniesta or Xavi, that sort of player. His capacity was rolling the ball in front of players, which brought a lot of goals.
Here is the thing, had he played for either Rangers or Celtic, he would have got many more caps than the four he got.
Forward - Lawrie Reilly
When I look back at players from the fifties and sixties from when I was a boy there was a great competition between a team in the east and Rangers and Celtic, particularly Rangers. And the one man that I think the Rangers fans feared more than anything else was Lawrie Reilly.
When you think back on Lawrie Reilly, 185 goals for Hibs, 22 goals out of 38 caps and 38 caps was a lot for an individual player to get in those days, because there was intense competition.
He was famous for his late goals, he became called 'Last-Minute Reilly', because in 1953 he scored two late goals against Northern Ireland and, particularly, against England.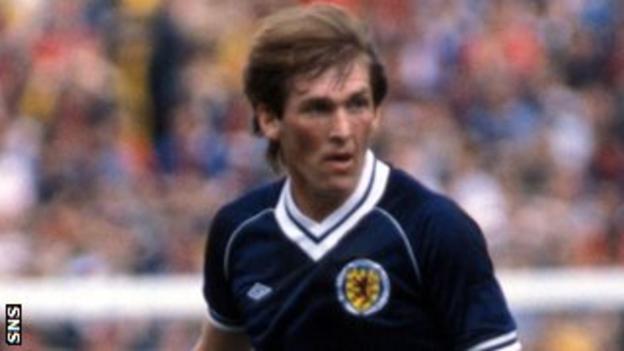 Forward - Kenny Dalglish
We could spend half-an-hour talking about the remarkable quality of the goals he scored.
I liked him in the sense that he was sometimes a very dour man, single-minded.
I worried when he went down south, because I thought, 'he doesn't have the pace for English football', but then you saw why he was so great.
He manipulated opponents because of that; he was deceptive, because over a couple of yards he had this stride and shielded the ball brilliantly.
Think of some of the goals he scored, where he has his back to the goal on the edge of the box, turns, swivels and curls it away; lots of the goals he scored that way.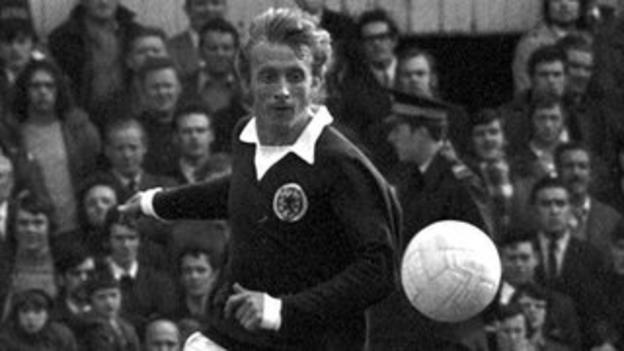 Centre-forward - Denis Law
Denis - marvellous! The first time I saw him was at Hampden against Czechoslovakia in the late fifties, that was perhaps the best goal he ever scored for Scotland.
What made it so great was he was being marked by one of the great European players, Mazopust, who was the Czechoslovakian captain, and Denis made short work of him because of his pace.
The difference between Kenny and Denis was pace; he didn't have the same subtlety as Kenny, but he had that vision to penetrate, to get right through.
Manager - Jock Stein
It has to be Stein for me. Stein's capacity to understand people, to be a psychologist, but a hard man - a draconian, a dictator, a bully, a tyrant - and without these qualities, Celtic, and later Scotland, would not have flourished.
I think his understanding of people, of the working-class man, and he was a working-class man all his life, he was mean with money, he didn't want to pay his players well. He could understand what made them tick.
It was his understanding of motivation; he was not the most brilliant strategist. When Scottish managers came back from seeing Helenio Herrera at Inter to study his methods, Stein said to me: "I didn't see anything particularly different, except discipline."
It's that which Stein picked up, the way to get the best out of a player is a mixture of fear and respect and that's exactly what he did.