Oscar Garcia: New Brighton head coach has attacking principles
Last updated on .From the section Football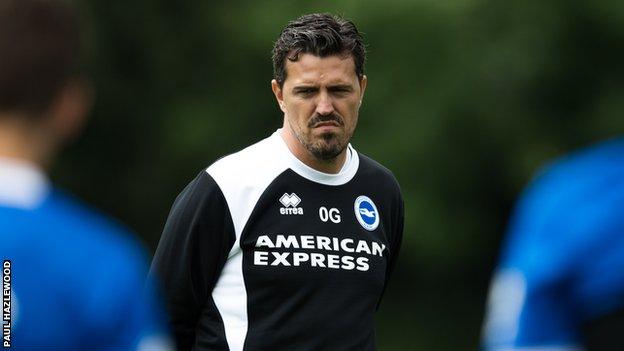 New Brighton & Hove Albion head coach Oscar Garcia has promised an attacking approach from the team next season.
"My obsession is to attack, to keep the ball and to have the ball as many times as possible.
"If we have the ball, we will have many chances to score and win the game. That's my philosophy," the Spaniard told the club website.
"If you play good [football] you will have more chances to win than if you play bad [football]."
Garcia, who won the Israeli title with Maccabi Tel Aviv last season, his first in management, took charge of pre-season training at the Championship club on Thursday.
"I'm impressed with all the people that are working at Brighton and it's a pleasure for me to be here," he said.
"I met all the players and I saw a lot of good things. I knew English football and I knew some players who are playing here."
During a 14-year playing career, Garcia also represented Albacete, Valencia, Espanyol and Lleida and featured for Spain at the 1996 Olympics.
Garcia began his coaching career with the Catalonia national side before working with the youth teams at Barcelona and said becoming a manager had always interested him.
"When I was a player I was always thinking about what the coach was thinking and why he did [certain things]," he said.
"I love thinking about how we can win a game or how we can kill [off] the opponent. These kind of things made me think I wanted to be a manager.
"When you are a manager you have to think about maybe 30 people and it's not easy.
"It's more difficult to be a coach or a manager than a player."