Salisbury City: Mikey Harris is 'ready for management'
Last updated on .From the section Football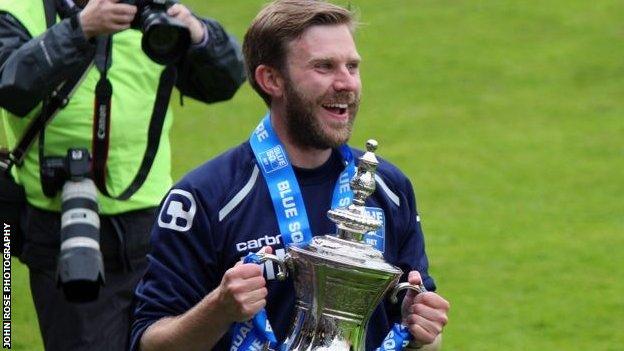 Salisbury City assistant Mikey Harris has said he is ready to make the step up to management and is keen to take the vacant role at the club.
Both are former Whites players and took over as a management team in 2010.
"There were people three years ago saying we weren't experienced enough but Darrell has proved he was more than capable," Harris told BBC Wiltshire.
It is thought former Aston Villa, Leicester and Stoke boss Brian Little is among the applicants for the manager's job at the Ray Mac, along with Northampton goalkeeping coach Tim Flowers.
Harris continued: "I know the players, the club and I have experience at this level. I'm young but I'd question any comments on inexperience.
"Darrell will be the first to say we worked very closely together. What I lack in experience I make up for in enthusiasm."
Clarke became player-manager in the summer of 2010, after the club had suffered a double demotion because of financial issues.
In his three years at the helm, he led them to two promotions - most recently as Blue Square Bet South play-off winners.
Clarke agreed to join John Ward's team at League Two Rovers earlier this month and Harris admits he had mixed feelings over his former team-mate's departure.
"I'm really pleased Darrell's had the opportunity to get in to the league. He's earned that over the last three years," said Harris.
"It's a positive move for him and he'll learn a lot from it. I have no doubt he'll go on and perhaps even manage Bristol Rovers one day.
"But of course I'm disappointed we can't continue our partnership going into the Conference Premier as it's going to be an exciting season for us.
"We had a lot of plans going into this season and it goes a little bit awry when something like this happens.
"But I've kept things ticking over and I'll look forward to next season. The show must go on, as they say."