Steve Fletcher: Bournemouth legend takes new scouting role
Last updated on .From the section Football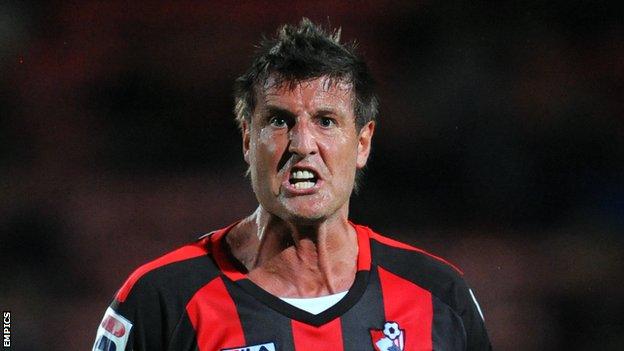 Bournemouth's club appearances record-holder Steve Fletcher has taken up a new scouting role with the club.
Fletcher has now been given a role to scout upcoming opposition and potential transfer targets for Eddie Howe's team.
He revealed he had turned down offers from other clubs to continue playing.
"I had a few offers from League Two and non-league," Fletcher told BBC Radio Solent.
"I still do believe that I could do a job, but I'm going to say that because my heart wants to keep playing.
"But my heart is at this football club - to be given this opportunity at the club I've been at for 20 years and the one I love and a great chance for me to be with the manager, who's a friend of mine, and work alongside him and his team, everything was pointing me to stay at this club.
"This was the main option I wanted to do. It's taken a bit of time getting the right role for me but finally I can start my new career."
Fletcher, whose Bournemouth career began in 1992 when he joined the Dorset club from Hartlepool, will combine his new job with the ambassadorial role he already has with the club.
"There's a lot of longevity in this type of work," he commented. "If you work hard and do the right things you can make a good career out of it.
"I'm just looking to the new season and hopefully I can do the job well, please the manager and please the chairman."