Kilmarnock: Chairman Michael Johnston stands firm on position
Last updated on .From the section Football14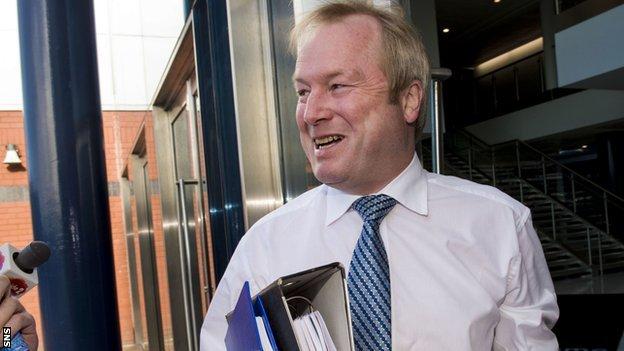 Kilmarnock chairman Michael Johnston insists he has no intention of leaving Rugby Park.
Sections of the support have called for Johnston to step down following the exit of manager Kenny Shiels.
However, Johnston, speaking at the unveiling of Shiels's successor Allan Johnston, showed no sign of contemplating an exit from the club.
"It's business as usual. I've got to remain focused on the job at hand," he told BBC Scotland.
"Having decided to part company with the previous manager it was important I wasn't distracted by all the noise in the background and got on with the job of selecting the best candidate," Johnston added.
"It takes time for these things to calm down."
Johnston then turned his attention to the fans, who have protested outside the club's ground and are seeking a handover to a consortium of local business figures.
"There are a number of people who have their own agendas," he said.
"And it's basically any excuse to cause a problem and try to engineer what they call regime change.
The Killie chairman also revealed he has been working on his own plan for change at the club.
"I do have my own plans, which I have been working on for some months, to restructure the company and to have a different board structure," he said.
"But it's complicated, there are a number of steps that have to be taken before I can deliver that.
"What I would say to the supporters is to be patient while I continue my work on that, in conjunction with Lloyds Banking Group, to put in place a better structure and a more inclusive approach in terms of supporters organisations, small shareholders, local politicians and local businesses.
"I want to see a partnership of all these groups more closely involved in the club.
"I hope that I might be able to make some meaningful progress on that by the end of the year."