GB women's football team could compete at Rio Olympics
Last updated on .From the section Football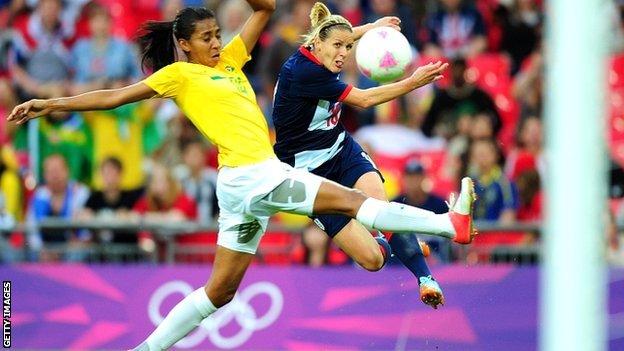 A Great Britain women's football team may compete at the Rio Olympics after gaining Football Association backing.
Team GB would qualify for the tournament through each of the home nations' individual performances in the 2015 Women's World Cup.
The FA's Robert Sullivan said: "Subject to qualification we are prepared to look at the possibility."
A GB men's team is unlikely to play in Rio with Sullivan confirming there is "currently no commitment" to the idea.
The GB men's and women's team qualified for London 2012 because of their host status.
FA head of corporate affairs Sullivan told the House of Lords Olympic and Paralympic Legacy Committee the FA would look at ways for a GB team to compete at Rio.
For the women to win a place at Rio, a home nations side would have to be one of the top three European teams at the World Cup in 2015.
Team GB's women's team were considered a success at the London Olympics with a record British women's football crowd of 70,584 seeing the host nation beat Brazil 1-0 at Wembley in their final group game.
Hope Powell's side were eventually knocked out at the quarter-final stage by Canada.