From refugee to MLS player and US citizen
By Richard Fleming
BBC World Service
Last updated on .From the section Football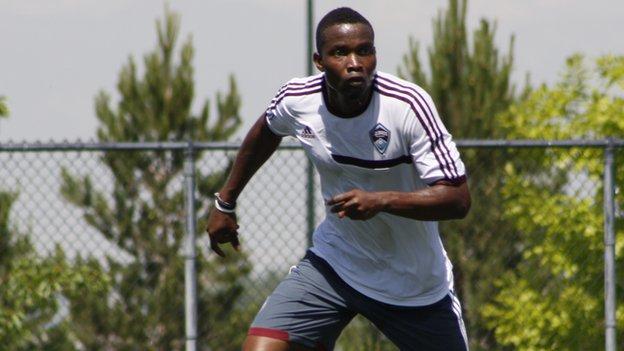 Danny Mwanga is originally from the Democratic Republic of Congo, but now living in the United States and playing in Major League Soccer (MLS).
Nothing too remarkable about that, you may say, except this is a young man who was forced to flee his homeland in the aftermath of the civil war, and on Monday was awarded US citizenship.
His story is chilling, horrifying, yet inspirational.
Born Jean-Marie Daniel, 21-year-old Mwanga lived a normal childhood in Kinshasa, the youngest of four children (he has three older sisters).
His life would change forever one day in 1998, when his father Belmond left for work and never returned.
"It's one of my darkest memories and sometimes I don't even like talking about it," Mwanga told BBC Sport.
Mwanga's father had been an adviser to Joseph-Desire Mobutu, the dictator who ruled DR Congo (then Zaire) for 32 years, until he was forced into exile in 1997.
With Mobutu gone, those who had connections with the fallen regime were seen as legitimate targets by those wanting retribution.
Belmond Mwanga was missing, presumed dead, after which Mwanga's mother Leontine began receiving death threats. News reached them of entire families, with links to Mobutu, being killed.
In 2001, Leontine made the toughest decision of her life. She escaped the country, but left her children behind with family members. It would be five years before Mwanga was reunited with his mother who - by this time - had set up home in the US city of Portland.
"She's my hero," Mwanga explained. "She kept the family together. I can't thank her enough. I can't imagine what she went through to leave us behind."
Mwanga arrived in the US in June, 2006 as a refugee, unable to speaking the language or understand the culture, and with an uncertain future.
"That was a long day," Mwanga said. "We flew from DR Congo to Ethiopia. From Ethiopia, we flew to Italy. From there we then went to Washington DC, and then on to Atlanta, before arriving in Portland.
"Once we arrived, I remember seeing my mum. We dropped our bags and rushed to her. After not seeing her for five years, it was one of the best days of my life."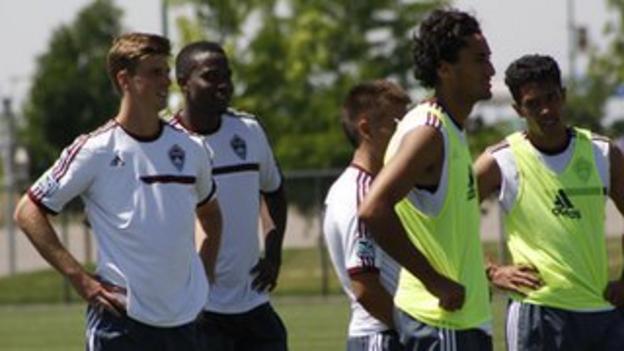 His integration into American life was helped by a group of Ethiopians, who invited him to join their game of football at a local park. He would meet them again at Jefferson High School, where his journey to MLS would begin in earnest.
"Soccer has been a dream of mine since I was a little kid," Mwanga said.
"Living back home (in DRC), there were friends who were just as good as me, or better, but they didn't get a chance to become a professional soccer player.
"Some of them lost their lives. Some of them ended up in jail. That just shows me that I'm very lucky, very blessed."
After less than four years in the USA, Mwanga - having learnt English and pushed himself through college - was chosen first overall in the 2010 MLS draft, by Philadelphia Union.
He spent two-and-a-half seasons with the Union, before moving to his 'hometown' club of the Portland Timbers.
Within eight months, Mwanga was on the move again, joining the Colorado Rapids in February of this year. He has featured for the Rapids just nine times so far, starting only five of the team's 17 games.
Mwanga was not even in the Rapids squad for last weekend's 3-0 loss at the Timbers, but he still made the three-hour flight from Denver to Portland.
And on Monday he made the final leg on what has been an incredible journey that began in Kinshasa and ended in the Portland field office of the US Citizenship and Immigration Service.
A brief ceremony followed, after which Mwanga was sworn in as a US citizen.
"After everything that I went through in (DR) Congo, to come to a place where I'm able to start my life over, this country (USA) means a lot to me. This is home now," he said.