Brazil boss Luiz Felipe Scolari says win could unite his country

By Ben Smith
BBC Sport in Brazil
Last updated on .From the section Football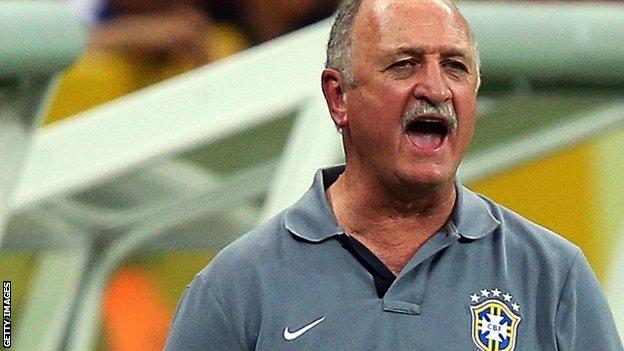 Luiz Felipe Scolari has described Brazil's Confederations Cup semi-final against Uruguay as a "crucial moment" and claimed victory in Belo Horizonte could help pull the country together.
As many as 100,000 protestors are expected to march on Estadio Mineirao before the match on Wednesday but Fifa says it is confident there will be sufficient security for the game to proceed safely - and the Brazil coach says the success of the Selecao could calm the tensions.
"This is a crucial moment for the Brazilian team. But we need to take one more step forward, to defeat Uruguay and reach the final," Scolari said.
"Brazilians have been with us and everything we have done to build a better country will not be in vain if we can keep this run up.
"We must find a way of working together, not fighting with each other. Maybe in five or ten years' time we can have a better country."
Earlier, Brazilian striker Fred, who began his career in Belo Horizonte, admitted that while he was concerned by the scale of the demonstrations being planned, he supported the cause.
"The forecast is for a very strong rally," he said.
"That makes me worried. We asked the people to be united and give only joy for at least 90 minutes of this game. But they are fair claims. All I can hope is that they are peaceful and there are no clashes with the police."
Scolari believed his team had made real progress during the tournament. He said: "We are better in comparison to February when we started in my first match. We have a good foundation. In this tournament we have had tough matches and the group has improved and is more self confident.
"We know the managers of the other teams have always respected us because Brazil has always been a great team. But maybe they weren't 100% sure we would be strong this time."
Scolari added that this side was beginning to live up to the standards set by the great Brazilian sides of the past, even though he believes they still have some way to go to catch Spain, Germany and Argentina. "We are on the right track," he said.
"We are earning back the history of the Brazil team. But we still have a long way to go to say we are as good as the top four or five teams in the word."
Uruguay have a formidable front line with Luis Suarez, Edinson Cavani and Diego Forlan likely to start again against Brazil, and Scolari admitted he feared their star players.
"Uruguay have so many good players but they probably fear our players as much as we fear theirs," he added.
"Cavani has been the top striker in Italy for the last few seasons, Forlan was the best player in the 2010 World Cup and Suarez is one of the best player in the English league. That alone shows how careful you have to be with them. They are top quality players, our team knows that."