Confederations Cup: Sergio Ramos dismisses party claims
Last updated on .From the section Football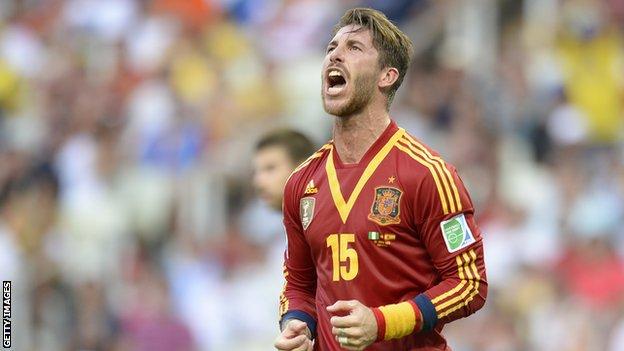 Sergio Ramos denies claims that Spain's players were involved in a party with local women following their 2-1 victory over Uruguay at the Confederations Cup.
Brazilian website Globo Esporte published a story claiming some players had invited women back to their rooms.
The Spanish Football Federation released a statement denying the story.
"We'd like Fifa to denounce the liar who's trying to make a name for himself on the back of a generation of players," added defender Ramos.
The report claimed an alcohol-fuelled party with women from outside Spain's travelling group took place in the team's hotel in Recife following the win in their Confederations Cup opener on 16 June.
Spain went on to beat Tahiti and Nigeria to qualify for the semi-finals, where they will face Italy.
"You can't play with the reputation of a country like Spain, which has a very clean image, and you can't play with the families, fiancees and children that we might have," Real Madrid's Ramos continued.
"Calling all that into question by inventing a story like that is very serious.
"We hope that the law puts them in their place and that we're left to pursue our own path."
While the Spanish Football Federation (RFEF) rubbished the allegations, it said it reported a burglary at the hotel on the same night to the police.
"Six national team players were the subject of a robbery at the team's hotel in Recife ... This was reported in a timely manner to the Brazilian police," the Spanish federation said.
"This statement is not an attack against the organizing committee, nor against Fifa, nor the country of Brazil, which has welcomed the Spanish team. An event like this could take place anywhere in the world, including Spain.
"Since then, a series of verbal attacks on our players has been published, which the RFEF totally rejects and profoundly condemns. They damage the honour of the players and their family and friends."
Security is a long-standing issue in Brazil and will be a major concern as it prepares to host next year's World Cup and the 2016 Olympics.
The country has also been swept by a wave of violent demonstrations against rising costs, poor public transport, corruption and repression.