Ryan Lowe: Tranmere move 'will bring best out of striker'
Last updated on .From the section Football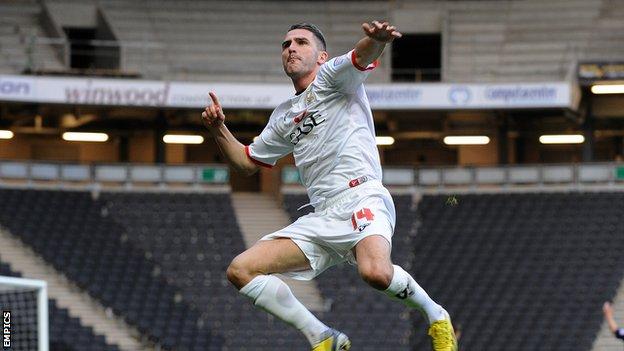 Striker Ryan Lowe hopes his return to the north west will prove a successful one, both on and off the field.
Lowe left MK Dons and citing family reasons for his decision.
And having come back to his Merseyside roots, he is expecting to deliver goals for the League One club next season.
"When I was at Bury, Crewe and Chester, all local teams, I performed there. I'm hoping to do the same at Tranmere," the 34-year-old told BBC Radio Merseyside.
Lowe, who last season, still had a year to run on his contract at MK Dons.
But he said continuing his career at a club more than 150 miles away from his family, which includes two young children, left him with no alternative but to think of a transfer elsewhere.
but after his Dons deal was cancelled, he settled on a switch to Tranmere.
"When I went down there [to MK Dons] I thought it would be a lot easier than it was," said Lowe, who also hopes to gain some coaching experience at his new club,
"I did my utmost to persevere with it, dragging my family down to stay on a Friday night and then travelling back late on a Saturday after a game, but it wasn't appropriate.
"I loved my time there, but I felt it was time for me to get closer to the north west and be with my young family.
"It's time you're probably never going to get back. People say when you'll retire, you'll have plenty of time for that, but I'm not planning on retiring any time soon."