PSG: Laurent Blanc faces tough task after Ancelotti's Madrid move
By Matt Spiro
French football writer
Last updated on .From the section Football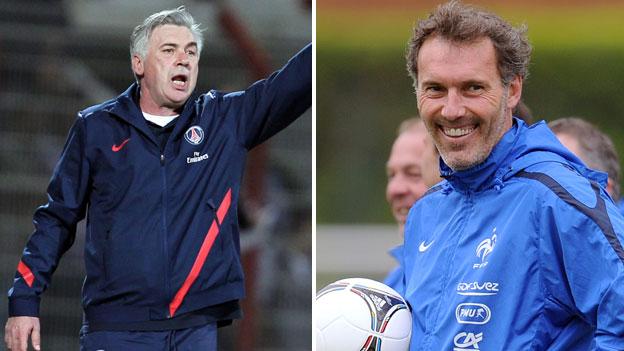 Money can get you a long way in football but as Paris St-Germain have discovered in recent weeks it doesn't always get you the manager you want.
In reality, it had just ended.
The former Chelsea manager had endured a trying 2012-13 season, both on an emotional and sporting level, and despite the fact it ended in celebrations, he decided he wanted a change of scene.
On May 20, Ancelotti informed his employer he wished to leave for Real Madrid, who had made him first choice to replace Jose Mourinho.
PSG president Nasser Al-Khelaifi was furious and adopted an unyielding public stance, insisting Ancelotti would not be released from the final year of his contract. Privately, however, his search for a successor began.
It would prove no easy task. For all their wealth, PSG struggled terribly to find a replacement of similar experience, receiving an embarrassing run of knock-backs.
Long-time targets Jose Mourinho and Arsene Wenger were the first to say 'non, merci', before Fabio Capello, Guus Hiddink, Andre Villas-Boas and Frank Rijkaard were contacted.
Even Al-Khelaifi's back-up plan failed, the idea of Leonardo switching roles from sporting director to coach for one season - in the hope that Wenger might join in 2014 - being discarded when the Brazilian received a seven-month ban for allegedly shoulder-charging a referee.
PSG's painstaking search ended when Laurent Blanc signed a two-year deal on Tuesday.
Widely believed to have been the club's eighth choice, the ex-Manchester United defender arrives under a cloud of scepticism. Indeed, a survey in France Football magazine revealed that 53% of the French public expects him to fail.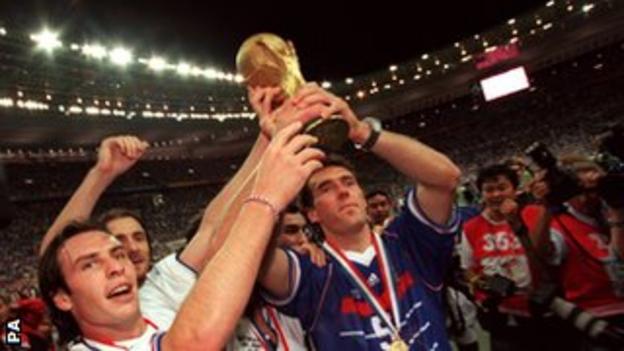 Blanc joins at the end of a sabbatical year during which he undertook English lessons in the hope his next job would be in England. AS Roma showed interest before appointing his compatriot Rudi Garcia, yet Blanc's dream of coaching in the Premier League did not materialise.
His most recent spell in management ended disappointingly when his France team was eliminated from Euro 2012 by Spain in the quarter-finals without a whimper.
More than the ineffective tactics employed against the world champions, Blanc's legacy was tarnished most by his inability to control a dressing room riddled by disharmony. While the French federation took disciplinary action against three players after the tournament, their decision not to renew Blanc's contract was another consequence.
Many are now questioning Blanc's capacity to keep in check a dressing room that includes some strong personalities, and his plight may be complicated by the fact both striker Zlatan Ibrahimovic and skipper Thiago Silva are deeply disappointed by Ancelotti's exit.
Not that the 47-year-old is without qualities. Blanc's aura and elegance earned him the nickname 'Le President' during an illustrious playing career that included World Cup and European Championship triumphs.
He also won the Premier League with Manchester United before deciding to retire in 2003 shortly after being given the run-around by a 17-year-old Everton striker called Wayne Rooney.
Blanc has continued to enjoy success as a coach, landing four trophies over three seasons at Bordeaux - including the 2008-09 league title - and he began promisingly enough with France, overseeing 23 games without defeat.
Furthermore his teams have by and large played attractive, attacking football - a factor not lost on PSG's image-conscious Qatari owners.
Under Blanc, the Parisians will be expected to win the league again but in more spectacular style than Ancelotti's pragmatic, counter-attacking team.
They are likely to face domestic resistance from Monaco, however. While PSG have been seeking a manager, the Ligue 2 champions have already spent more than £100m on four players, including a French record £50m on striker Radamel Falcao.
Blanc's first job at PSG will be to decide on transfer targets this week; Edinson Cavani, Luis Suarez and Rooney are among the names being linked.
Across the Pyrenees, Ancelotti's appointment is also likely to spark activity. If Arsenal supporters are hoping the new manager sanctions Gonzalo Higuain's departure, Real Madrid fans will be counting on some eye-catching arrivals as they bid to win back the title from Barcelona.
Ancelotti may tussle with his former club for Napoli forward Cavani, Manchester City-target Isco is being tipped to join from Malaga, and Tottenham's Gareth Bale continues to be linked.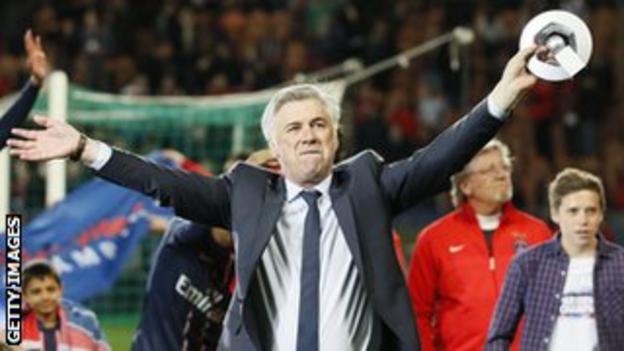 Ancelotti may have added a Ligue 1 title to his glittering CV but the 54-year-old will have mixed feelings when he looks back on his 18-month stint in France.
PSG were top of the league when he joined in December 2011, yet got pipped to the title by unfancied Montpellier. Last term, he was close to being sacked before Christmas when PSG lost three games out of five. Indeed, the apparent lack of faith shown by the Qataris then disappointed the Italian and left him wary.
The tragic death of Ancelotti's close friend Nick Broad, PSG's performance manager who died in a car accident in January, also weighed heavily.
But if Ancelotti had struggled to convince during much of his first year, the Paris fans warmed to him in the final six months; they loved every minute of the daring performance against Barcelona in the Champions League quarter-finals and watched on in jubilation as PSG roared to the third title of their history this spring.
Alas for PSG, that would prove Ancelotti's last hurrah.