Welsh Premier League: The New Saints start against Port Talbot
Last updated on .From the section Football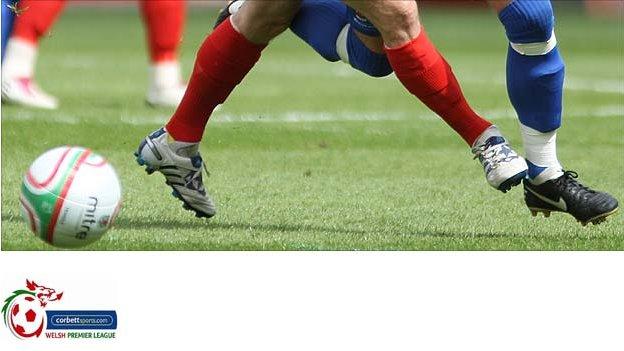 Welsh Premier League champions The New Saints will start the defence of their title at home to Port Talbot Town on Saturday, 24 August.
Prestatyn host Bala the previous evening in the season's curtain-raiser.
Newly promoted Rhyl start at home with a tough fixture against Aberystwyth before travelling to Bangor on the August Bank Holiday Monday.
The final round of fixtures before the league splits mid-season will be on the weekend of 18 January.
Corbett Sports Welsh Premier League 2013/14:
Week 1
23/08/2013
Prestatyn v Bala
24/08/2013
Airbus UK v Carmarthen
Gap C Quay v Afan Lido
Newtown v Bangor
Rhyl v Aberystwyth
TNS v Port Talbot
Week 2
26/08/2013
Aberystwyth v Afan Lido
Bala v Airbus UK
Bangor v Rhyl
Newtown v Carmarthen
Port Talbot v Gap C Quay
Prestatyn v TNS
Week 3
30/08/2013
Aberystwyth v TNS
Bangor v Prestatyn
Carmarthen v Port Talbot
Gap C Quay v Bala
Rhyl v Newtown
31/08/2013
Afan Lido v Airbus UK
Week 4
07/09/2013
Afan Lido v Bangor
Airbus UK v Newtown
Carmarthen v Rhyl
Port Talbot v Aberystwyth
Prestatyn v Gap C Quay
TNS v Bala
Week 5
13/09/2013
Carmarthen v Afan Lido
Gap C Quay v TNS
14/09/2013
Aberystwyth v Prestatyn
Bala v Newtown
Rhyl v Airbus UK
Bangor v Port Talbot
Week 6
20/09/2013
Bala v Rhyl
21/09/2013
Aberystwyth Gap C Quay
Airbus UK v Port Talbot
Newtown v Afan Lido
Prestatyn v Carmarthen
TNS v Bangor
Week 7
27/09/2013
Gap C Quay v Bangor
Prestatyn v Airbus UK
28/09/2013
Aberystwyth v Bala
Port Talbot v Newtown
TNS v Carmarthen
29/09/2013
Afan Lido v Rhyl
Week 8
04/10/2013
Bangor v Aberystwyth
05/10/2013
Airbus UK V TNS
Bala v Afan Lido
Carmarthen v Gap C Quay
Newtown v Prestatyn
Port Talbot v Rhyl
Week 9
12/10/2013
Afan Lido v Prestatyn
Carmarthen v Bangor
Newtown v Gap C Quay
Rhyl v TNS
13/10/2013
Port Talbot v Bala
Airbus UK v Aberystwyth
Week 10
18/10/2013
Aberystwyth v Newtown
Bangor v Airbus UK
Gap C Quay v Rhyl
19/10/2013
Bala v Carmarthen
Prestatyn v Port Talbot
TNS v Afan Lido
Week 11
25/10/2013
Afan Lido v Carmarthen
Airbus UK v Rhyl
Prestatyn v Aberystwyth
TNS v Gap C Quay
26/10/2013
Newtown v Bala
Port Talbot v Bangor
Week 12
01/11/2013
Airbus UK v Prestatyn
Bala v Aberystwyth
Bangor v Gap C Quay
02/11/2013
Carmarthen v TNS
Newtown v Port Talbot
Rhyl v Afan Lido
Week 13
08/11/2013
Aberystwyth v Airbus UK
Gap C Quay v Newtown
TNS v Rhyl
09/11/2013
Bala v Port Talbot
Bangor v Carmarthen
Prestatyn v Afan Lido
Week 14
15/11/2013
Airbus UK v Bangor
Afan Lido v TNS
16/11/2013
Carmarthen v Bala
Newtown v Aberystwyth
Rhyl v Gap C Quay
Port Talbot v Prestatyn
Week 15
22/11/2013
Aberystwyth v Rhyl
Bala v Prestatyn
Bangor v Newtown
23/11/2013
Afan Lido v Gap C Quay
Carmarthen v Airbus
24/11/2013
Port Talbot v TNS
Week 16
29/11/2013
Airbus UK v Bala
30/11/2013
Afan Lido v Aberystwyth
Carmarthen v Newtown
Gap C Quay v Port Talbot
TNS v Prestatyn
Rhyl v Bangor
Week 17
13/12/2013
Bala v Gap C Quay
Port Talbot v Carmarthen
TNS v Aberystwyth
14/12/2013
Airbus UK v Afan Lido
Newtown v Rhyl
Prestatyn v Bangor
Week 18
20/12/2013
Aberystwyth v Port Talbot
Bala v TNS
Gap C Quay v Prestatyn
21/12/2013
Bangor v Afan Lido
Newtown v Airbus UK
Rhyl v Carmarthen
Week 19
26/12/2013
Aberystwyth v Carmarthen
Bangor v Bala
Gap C Quay v Airbus UK
Newtown v TNS
Port Talbot v Afan Lido
Prestatyn v Rhyl
Week 20
01/01/2014
Afan Lido v Port Talbot
Airbus UK v Gap C Quay
Bala v Bangor
Carmarthen v Aberystwyth
Rhyl v Prestatyn
TNS v Newtown
Week 21
04/01/2014
Bangor v TNS
Carmarthen v Prestatyn
Gap C Quay v Aberystwyth
Port Talbot v Airbus UK
Rhyl v Bala
05/01/2014
Afan Lido v Newtown
Week 22
18/01/2014
Afan Lido v Bala
Aberystwyth v Bangor
Gap C Quay v Carmarthen
Rhyl v Port Talbot
Prestatyn v Newtown
TNS v Airbus UK