Gus Poyet: Brighton chairman Tony Bloom seeks interim boss
Last updated on .From the section Football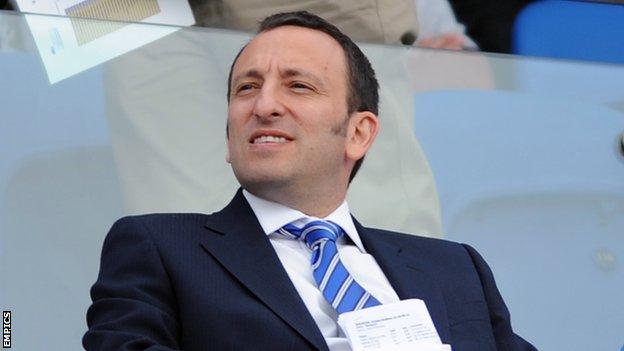 Brighton & Hove Albion chairman Tony Bloom hopes to have an interim manager appointed by Thursday.
Bloom told the club website: "We would like to have one in place by Thursday, which is when the players start working on the technical parts of pre-season.
"I can't give an actual timeframe on it because I have got to make sure it is the right decision."
Poyet received news of his dismissal on Sunday evening while working for BBC Sport on their Confederations Cup coverage, but the club insist the 45-year-old was "aware his dismissal was pending".
Bloom, who has been chairman of Brighton since May 2009, said he understood the frustration of fans who have been given few details since Poyet was first suspended by the Championship club last month.
"A lot of our fans do understand it is a process which we can't comment on while it is going on," Bloom continued.
"Often when clubs decide to get rid of the manager it happens straight away, they sack them and it is unlawful. The process that this club has gone through is the right, legal process.
"There has been an investigation followed by a disciplinary hearing.
"At that hearing the decision was to dismiss Gus. He has a legal right to an appeal that could take up to three weeks to be heard in private.
"Once the appeal has been heard, if that is unsuccessful, the club can appoint a permanent manager."
Former Brighton striker Nicky Forster says that despite the nature of Poyet's departure, he deserves credit for his achievements during his time in Sussex.
"Both parties have been good for each other. It has been a really good period in Brighton's history and Gus has been pivotal in that success," Forster told BBC Sport.
"It is sad the relationship has ended and soured in the way it has.
"Gus has been absolutely fundamental in transforming the club, although Tony Bloom was instrumental as well."
Forster, who scored 51 goals for Albion, believes Poyet will go on to manage in the Premier League.
"Although some chairman will be slightly cautions about how Gus left Brighton, people do want successful managers.
"He is destined for the top," he added.
"There are a lot of parallels between him and Paolo Di Canio. I think his next stop will be the Premier League.
"He will bide his time and look for that next opportunity."