Guernsey FC go ahead with FA Cup plans after appeal for help
Last updated on .From the section Football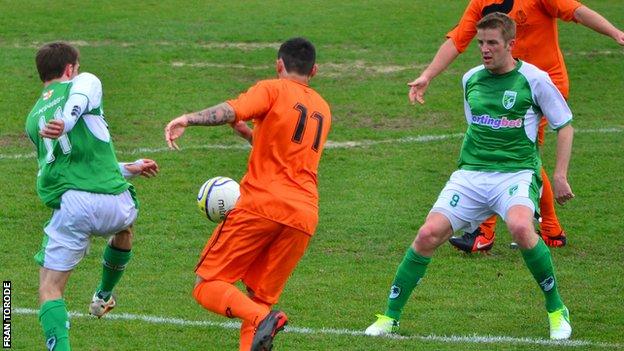 Guernsey FC will go ahead with their plans to enter the FA Cup and FA Trophy after a fantastic response to an appeal for financial help.
On Thursday, the club asked local businesses or individuals to pledge £100 per game in each competition.
"We've been absolutely blown away by the response," said Guernsey FC chairman Steve Dewsnip.
"In just a few days we've exceeded the pledges we need to start our journeys in the FA Cup and the FA Trophy."
Dewsnip added: "This campaign proves that the people of Guernsey are firmly behind our community club."
after the Football Association imposed certain conditions on them.
The FA says the club must share gate receipts as well as paying visiting teams' expenses from home ties.
It also stipulates that if Guernsey earn a replay from an away match or if a tie on the island has to be postponed because of bad weather, then in either case the game would have to be played on the mainland.
"The result of this campaign is very humbling and makes me proud to be a part of Guernsey Football Club," said Guernsey FC manager Tony Vance.
"The fact that so many businesses and members of the public have put their hands in their pockets for the club is beyond extraordinary.
"Just a few years ago, the players and coaches would have thought it impossible for a team from the Channel Islands to play in the FA Cup."