Aidy Boothroyd wants Northampton squad sorted in days
Last updated on .From the section Football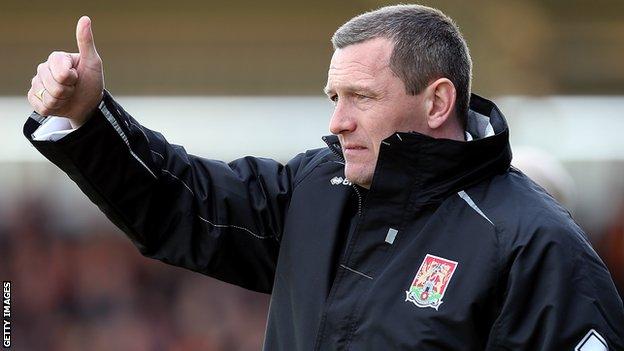 Northampton Town manager Aidy Boothroyd expects to know the majority of his squad for next season by Wednesday.
Boothroyd is waiting on responses to contract offers from Nathan Cameron, Ben Harding, Luke Guttridge and Roy O'Donovan and pursuing new signings.
"Hopefully, I'll know exactly where I am with all the lads that have been offered [by Wednesday].
"There's also one or two we're trying to entice to come to us," he told BBC Radio Northampton.
"Depending on what happens with Nathan and Roy, I do think we need another wide player - possibly two - and depending on what happens with the central midfielders, that is an area we need to strengthen in."
Last season's loan goalkeeper Lee Nicholls has returned to his parent club, Wigan Athletic, but Boothroyd is confident they will fill that gap shortly.
"Obviously we're going to need a goalkeeper, but I've got that 99% tied up and there should be an announcement early in the week," he revealed.
The Cobblers reached the League Two play-off final last season, only to miss out on promotion after losing to Bradford at Wembley, but will start the new campaign without the likes of Adebayo Akinfenwa, John Johnson and Jake Robinson.
Boothroyd is looking to improve their away form, having only managed four wins last season.
"There's reasons for that, and the biggest reason is the personnel, so we've got to change the personnel and see if we can get a few more results away," he said.
Last July, the Northampton squad went to Croatia for a pre-season training camp and Boothroyd is keen to head abroad again.
"We're putting the finishing touches to that trip," he added.
"For the standard of people that we dealt with and the facilities and environment, it was perfect for pre-season camp. There was a lot of hard work and we trained 3 or 4 times a day sometimes. Those two weeks do make a big difference."