Gus Poyet 'aware dismissal was pending', say Brighton
Last updated on .From the section Football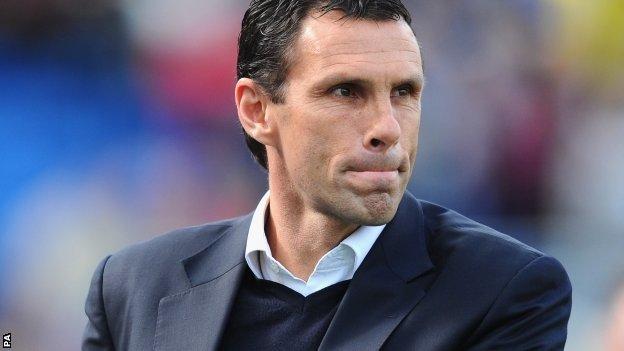 Brighton & Hove Albion say Gus Poyet was aware he was due to be dismissed as manager before he appeared on live TV.
A statement on their website said: "The club spent much of Sunday in discussion with Gus and his representatives.
"Gus was well aware, before he appeared on the BBC, that his dismissal was pending."
The statement continued: "For legal reasons we cannot say anything about the content of those discussions.
"Given Gus has a right to appeal the decision to dismiss him, the club will not be making any further comment on this matter at this time."
The 45-year-old was suspended by the Championship side last month and told to stay away from the club pending an internal inquiry.
The club's disciplinary panel considered the matter on Friday and Saturday and the Seagulls released a statement on their website at 19:14 BST on Sunday stating that they had terminated his contract.
Poyet was told of his dismissal when BBC Three production staff gave him a club statement off air during coverage of Nigeria against Spain.
The Brighton statement said the former Chelsea midfielder had been "informed by the club's internal disciplinary panel" he was no longer manager of the club and that they would look to appoint an interim manager.
At half-time, Poyet told BBC presenter Mark Chapman: "I'm probably the first to be in this position. Everyone can make their own conclusions about the way I have been informed by you.
"I think the BBC got a great story forever really, because a manager getting the information that he's been released from his employment during the time of a programme is quite surprising."
Speaking after full time, Poyet said he received an email from the club at 21:03 BST and confirmed he would appeal his dismissal.
"I've been trying to establish what my rights are now," he said. "From what I read from the statement, I am unemployed.
"My idea now is to appeal and get back to the job I've been doing.
"I can't go into details of the future. It's just a matter of being calm and make sure you make the right decision. "